How to Convert Bitcoin to Stablecoins without KYC
Bitcoin has long been notorious for its price volatility. For businesses and entrepreneurs who already are or looking to accept bitcoin for…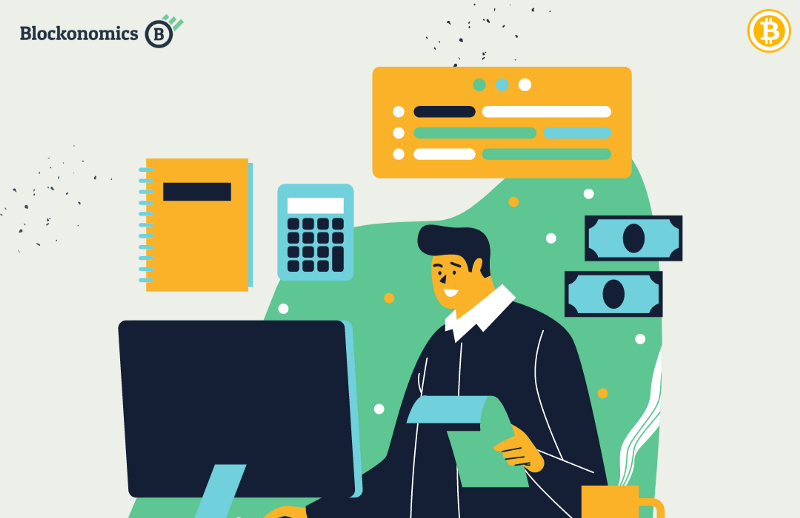 Bitcoin has long been notorious for its price volatility. For businesses and entrepreneurs who already are or looking to accept bitcoin for their venture, this has been a long-standing challenge.
But of course, mere price volatility should not really stop anyone from adopting this currency and there are solutions present to mitigate its effect on the business.
The most convenient way to address price volatility and still hold crypto is to convert it to a stablecoin.
And so far the best way to do so is through crypto exchanges which are present in abundance for anyone around the globe. But the one thing that these exchanges take away from their users is their privacy and anonymity. Almost every crypto exchange these days is making its users subject to KYC/AML regulations.
Yet, there are still a few exchanges where you can swap bitcoin for a stablecoin without having to undergo KYC.
Let's take a look…
Huobi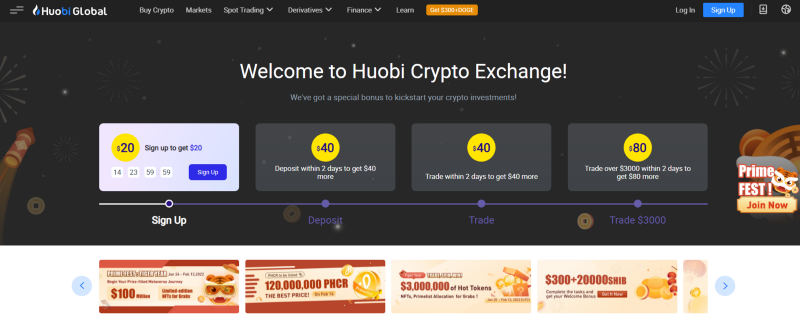 Founded in 2013 in China, Houbi is a global cryptocurrency exchange providing deep liquidity and a vast selection of coins.
Houbi was initially launched in China to provide crypto exchange services in the country and quickly became one of the biggest exchanges in the country but following the crypto ban in China in 2017 the company moved its operation internationally, incorporating its business in Seychelles and opening offices in Singapore, Japan, South Korea, Hong Kong.
Huobi offers a web platform and mobile app to its users and one of the highest liquidity of any exchange, plus, almost every new altcoin makes a presence in this exchange.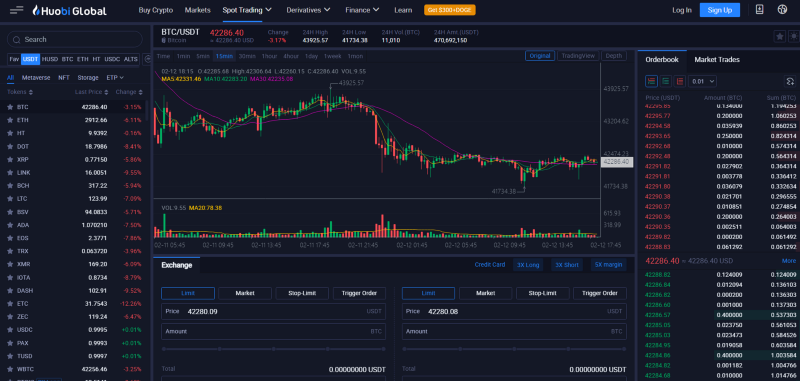 Fee: 0.2% base fee and additional fee based on various trading tiers
Withdrawal limit: 0.06 BTC /24 hr for unverified/no KYC users
Pros:
High liquidity
Vast selection of more than 400+ coins
Cons
A bit technical for new users
Poor customer support
Very limited withdrawal for non KYC members
HitBTC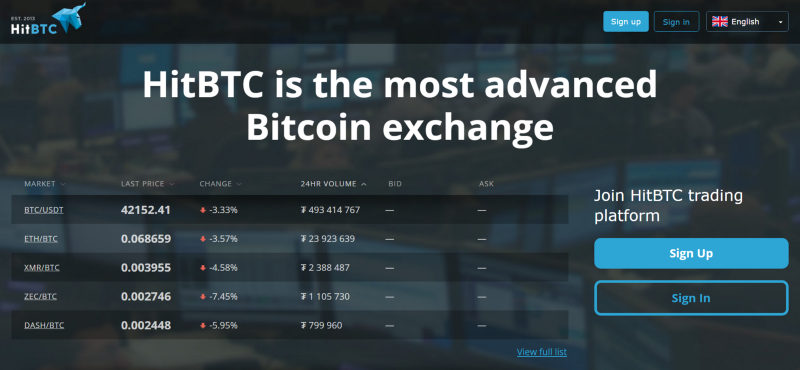 Founded in 2013, HitBTC is a leading European exchange offering a dynamic range of crypto coins, a state-of-the-art terminal, and high liquidity.
HitBTC key features include:
Advanced API: Fast and powerful APIs (REST, WebSocket and FIX API), making trading operations fast and convenient.
State of the Art Terminal: A technologically advanced trading platform with a lightning-fast and user-friendly interface.
Security:
Custody — cold storage
Control — white lists
2-factor authentication and high-end encryption technology, ensuring that trading is safe and secure
Fee: 0.2 — 0.08% fee based on various levels and tiers
Withdrawal limit: 1 BTC/24 hr or 5 BTC monthly for unverified/no KYC users
Pros:
High liquidity
Advanced trading platform
Vast selection of more than 800+ coin pairs
Secure
Cons
A bit technical for new users
Slow customer support
No mobile app
KuCoin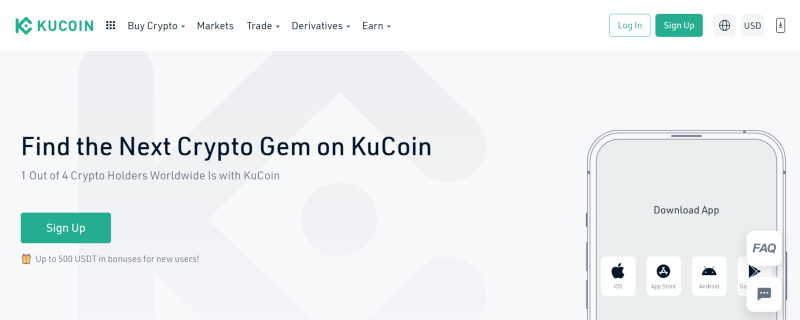 Often called 'People's Exchange', KuCoin is yet another leading cryptocurrency exchange that offers hundreds of trading pairs and high liquidity for users.
With an advanced trading API and feature-rich trading platform, KuCoin offers a complete suite of trading experiences that can be used by beginners to experienced traders.
Their product suite includes trading, derivatives, lending, and P2P.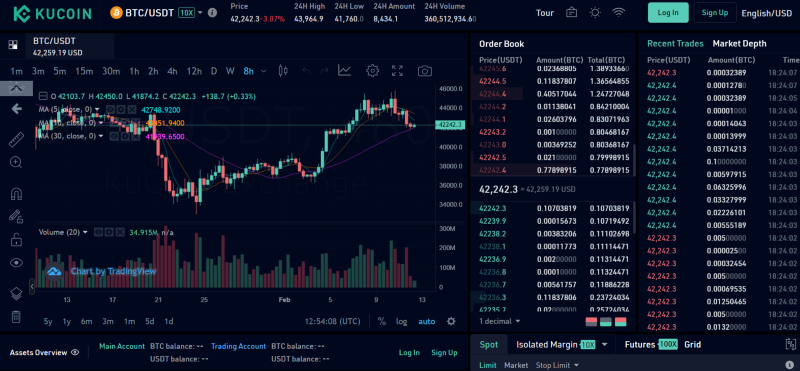 Fee: 0.1% based on various levels and tiers
Withdrawal limit: 1 BTC/24 hr for unverified/no KYC users
Pros:
High liquidity
Low trading fees
Vast selection of more than 500+ coin pairs
Cons
Poor user reviews
Technical for new users
Not licensed in the US
CoinEx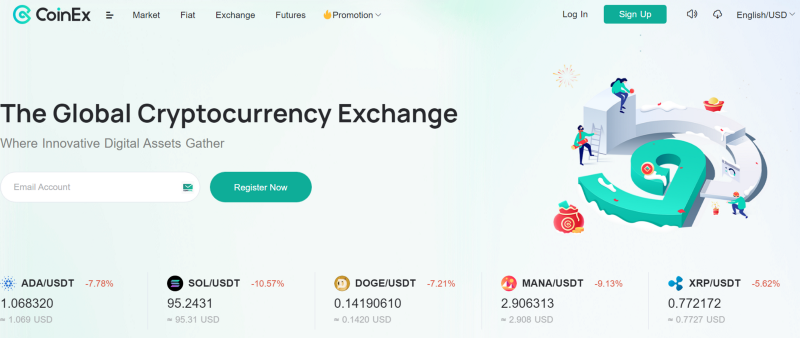 A relatively new crypto exchange, CoinEx was launched in 2017 with its headquarters in Hong Kong. It offers a user-friendly, high-speed crypto trading platform that is secure and accepts users from all over the globe.
With its proprietary trading algorithm and user-first design, CoinEx aims to provide everyone with a safe, stable, and efficient way to trade crypto assets.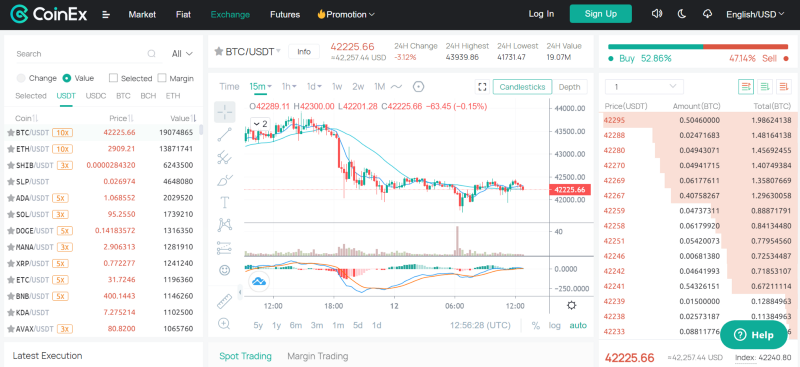 Another distinctive feature of CoinEx is that its user assets are not used elsewhere and are 100% reserved thus withdrawals are processed quickly. Although it does not support fiat currencies but does support stable coins.
Fee: 0.3% — 0.05% based on user type and coin
Withdrawal limit: $10,000/24 hr for unverified/no KYC users
Pros:
High liquidity
Low trading fees
High-speed withdrawal
Secure
Cons
No fiat support
Limited customer support
Poloniex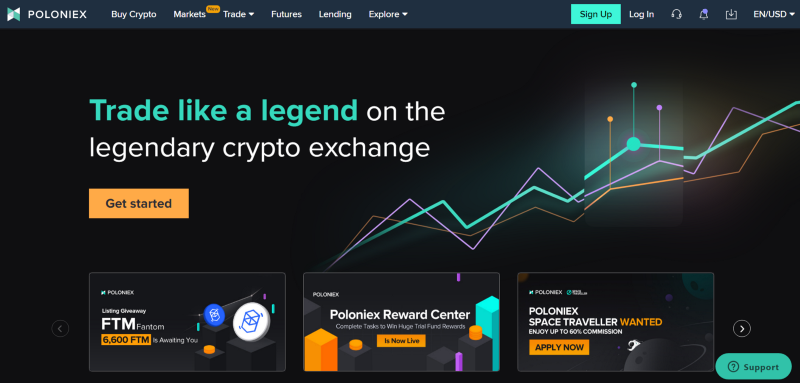 A long-standing crypto exchange, Poloniex, was founded in 2014 in the USA offering a wide selection of crypto coins and competitive fees to its users.
It offers a web-based trading platform that can be used by beginners to advanced users as well as a mobile app for Android and iOS.
Its product suite includes sport and margin trading, futures, and lending.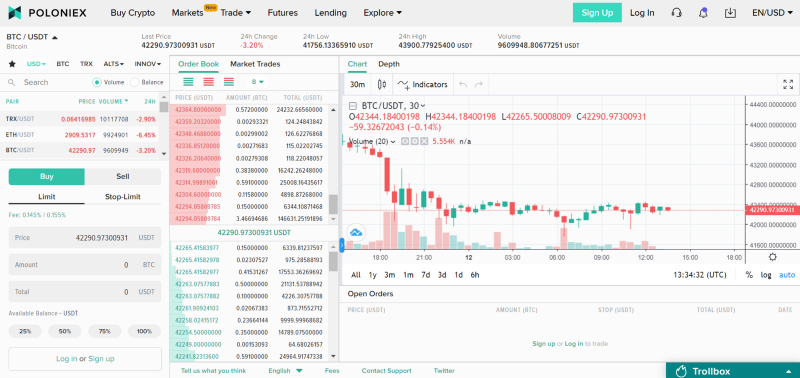 Although there are a few red flags against this exchange, the exchange was hacked in 2014 leading to a theft of $4 million in assets. And in 2021, it ran into some legal trouble leading to a $10 million settlement.
Fee: 0% — 0.1550% based on the variuos tiers
Withdrawal limit: $10,000/24hr or $50,000/24hr [if 2FA enabled] for unverified/no KYC users
Pros:
High liquidity
Low trading fees
More than 250 coins supported
Cons
History of hacks and legal trouble
Poor customer support
Bisq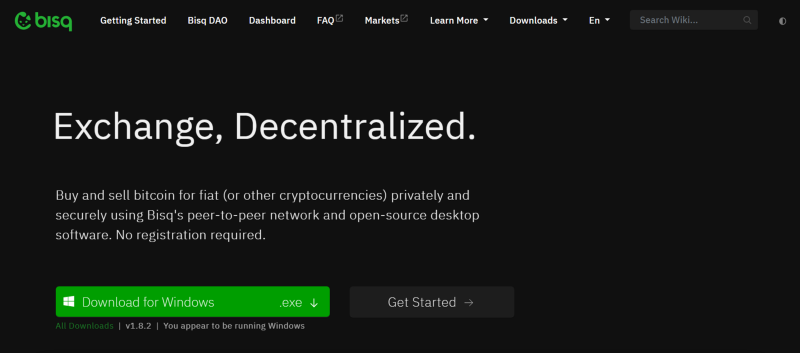 One of the popular decentralized P2P trading platforms, Bisq offers users the ability to trade cryptocurrency without the need to go through verification.
Additionally, since it is decentralized the funds are never held by the exchange and the entire trading experience is noncustodial.
Available as downloadable software for windows and macOS, Bisq allows for instant trading that does not even require a signup.
But since it is a decentralized P2P platform there can be an issue of low liquidity or trading volume.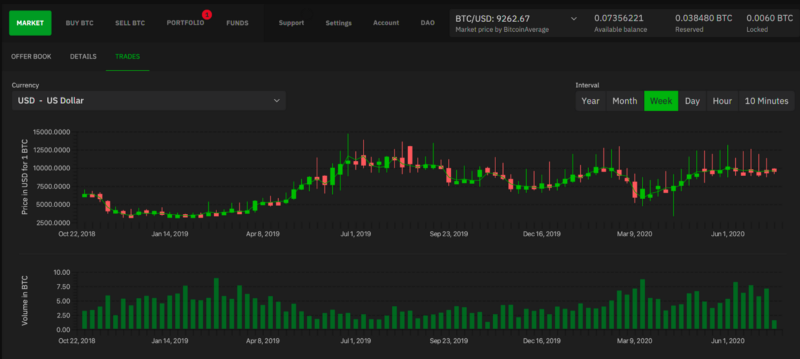 Fee: 0.1% maker and 0.7% taker
Withdrawal limit: No limit
Pros:
Decentralized
Open Source
Low trading fees
Cons
Low Liquidity
Not for active traders
UniSwap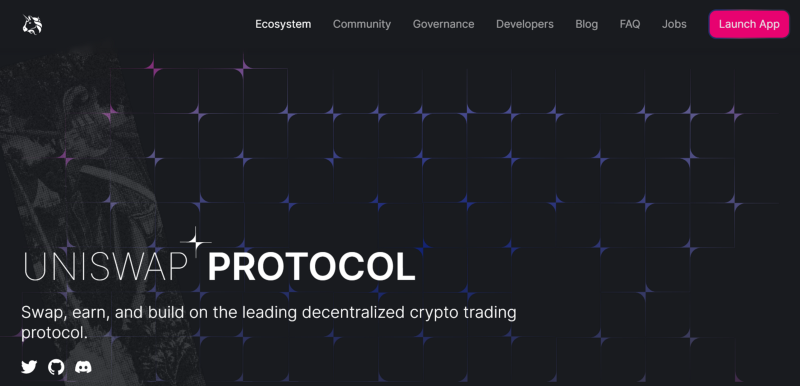 A widely used decentralized exchange, UniSwap, allows users to swap ERC-20 tokens through its permissionless, autonomous, and simple-to-use platform.
In fact, UniSwap became one of the first widely used platforms that allowed users to swap between ERC20 tokens with a click of a few buttons. There is no complicated trading UI or sign-ups required, all you have to do is select the tokens and connect your wallet and you are good to go.
There are about 400 trading pairs and 6000 liquidity pools on UniSwap.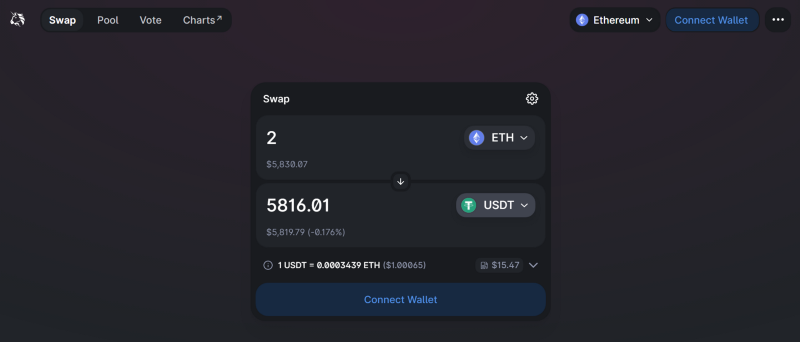 Although there have been some issues with using this platform. Due to its autonomous nature, almost anyone can list a token without having to go through a review process, making it susceptible to fake token listings and scammers. So a certain degree of caution should be maintained before using this exchange.
It is worth noting that it does not support Bitcoin [BTC] but does support Wrapped Bitcoin [WBTC].
Fee: distributed pro-rata to all in-range liquidity at the time of the swap
Withdrawal limit: No limit
Pros:
Decentralized
High liquidity
User-friendly design
No registration needed
Cons
Only swap ERC-20 tokens
Scammers and fake coins
Conclusion
Despite the growing scrutiny and increased regulations, there are still ways to trade crypto assets without undergoing KYC.
While the withdrawals are capped for unverified users, some exchanges do offer a decent daily withdrawal limit.
CoinEx, KuCoin, HitBTC, Poloniex are all great options to convert bitcoin to stablecoins that offer high liquidity and a decent daily withdrawal limit but the user experience can get technical for new users.
Huobi is another good exchange that offers abundant coin options and good liquidity but the daily withdrawal limit is rather low.
Decentralized exchanges such as Bisq do not have any caps or limits in their withdrawal but do suffer from low liquidity. Uniswap on the other hand offers great liquidity but only allows ERC20 token swaps and is susceptible to scams.
---
Disclaimer: Please proceed with caution when using crypto exchanges and understand the risks involved.