An Interview with Lucas Trow, Co-Founder at Saturn VPN
We had the opportunity to sit down with Lucas Trow, one of the co-founders of Saturn VPN, one of the top VPNs on the internet. In addition…
We had the opportunity to sit down with Lucas Trow, one of the co-founders of Saturn VPN, one of the top VPNs on the internet. In addition to offering a high quality and easy to use VPN, we got to talk to Lucas about many topics including internet security, the story of Saturn VPN and and the adoption of Bitcoin. Check out the interview below: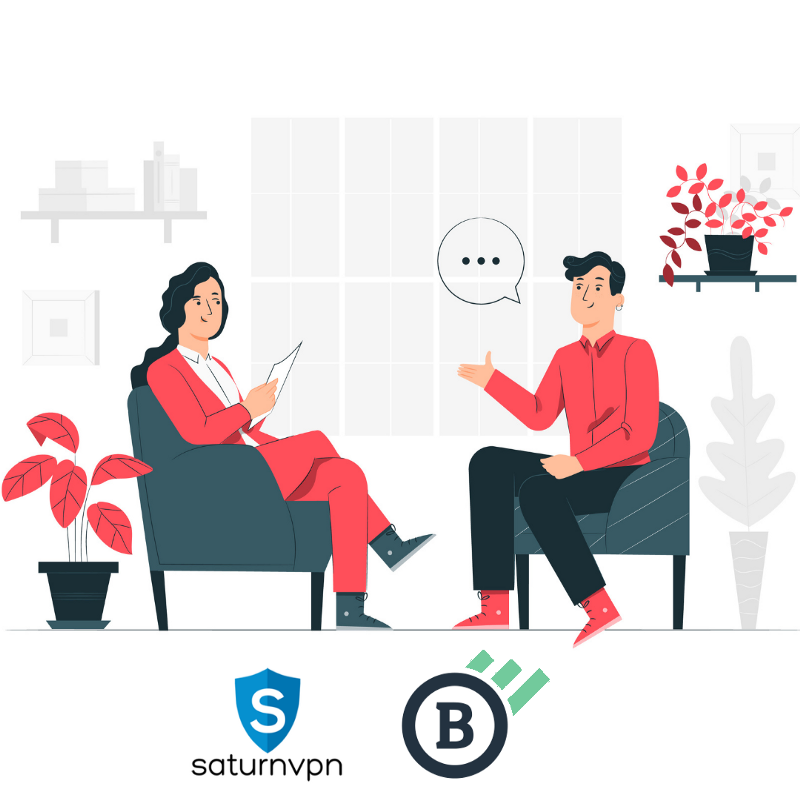 What gave you the idea/motivation to start a VPN?
As a student, we needed to use a VPN to do a project. But what mattered to us was the security of the VPN network we were going to use. Since we were very sensitive about security, we finally decided to set up a private VPN server for ourselves. After that, we decided to give this server to other people who need it like us. Thus, the idea of launching a VPN website was formed in our minds, and after a few days, we launched the first version of the SaturnVPN site.
Would you recommend everyday internet users use a VPN? Why?
I think using a VPN is useful for almost all daily tasks. I do not use a VPN only when using services that require my local IP. Otherwise, I prefer my information to always be exchanged in a secure network.
What's the number one thing you see the average internet user do that decreases their security?
My advice is not to visit any website without using a VPN, except for those who need your local IP. Unfortunately, with the advancement of technology, it is possible for hackers to hack or violate your privacy by viewing web pages. Therefore, it is better not to enter any fishy website without using a secure VPN. Or at least do not log in to any website with your original IP. Using a VPN can be a great help in this regard.
Why accept Bitcoin as payment?
We are looking for privacy in case of using VPN accounts, So what is more secure than buying a VPN with Bitcoin? We believe that the future of internet payments is with cryptocurrencies.
How has bitcoin improved your sales? What percentage of your customers use bitcoin?
Some of our customers did not want to use their bank accounts to buy VPN. Well, it is normal. One of the reasons for using a VPN is to remain anonymous. That is why we decided to use Bitcoin payments. Fortunately, it also had a positive effect on our sales.
At present, about 5% of our sales are with Bitcoin, and we intend to increase this amount to at least 20% of SaturnVPN total sales.
Are there any difficulties that are faced by accepting Bitcoin? Any legal or technical?
No, not at all. I dare say that the easiest payment gateway we launched was Bitcoin, which, fortunately, with the features provided by Blockonomics, was launched easily and in a short time. Let me thank you here for this wonderful service.
What is next for SaturnVPN?
In the first stage, our focus is on attracting a larger segment of the VPN sales market, especially by purchasing with cryptocurrency and then preparing a dedicated application for all operating systems. We are aware of the capacities of this market and try to attract more users by maintaining the current quality.
Anything else you want to add?
In the global VPN market, you have to choose a reliable and trustworthy server. By agreeing to use a VPN, you agree to use a third-party network to exchange your information. Therefore, I recommend that you be careful in choosing reputable and more experienced servers. We have been providing VPN services in SaturnVPN since 2013 and have tried to pay more attention to the issue of security than anything else. Another feature of our services is their low price. It may give the impression that good quality services are not provided while offering these low prices as a competitive lever in the market, and this assurance The quality of services is higher than many expensive services.
How can readers contact you?
You can contact us at any of these links here:
Email: info@saturnvpn.com
Twitter: https://twitter.com/saturnvpn
Instagram: https://www.instagram.com/saturnvpn
Facebook: https://www.facebook.com/saturnvpn
I'd also like to offer a discount code for the readers of the article, get 10% off your package here: blcs10off