How to Accept Bitcoin [BTC] Payments on Squarespace
Squarespace has made quite a name for itself in the website building space with pre-built templates and easy drag-and-drop options, it…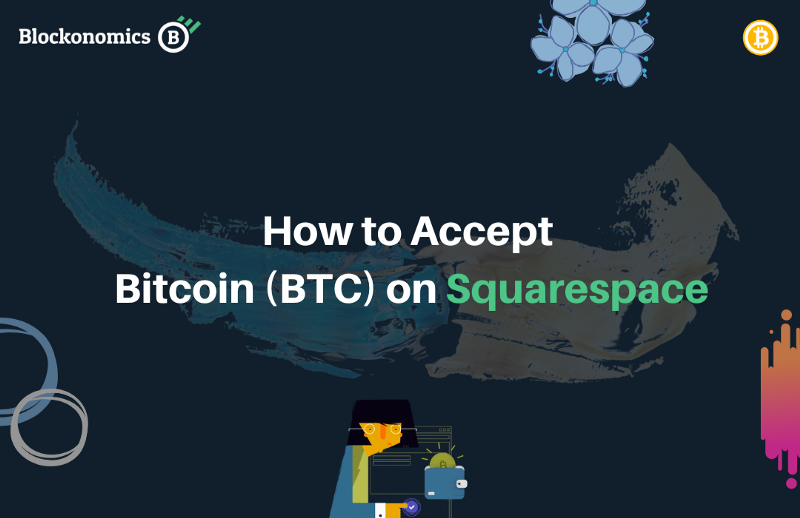 Squarespace has made quite a name for itself in the website building space, with pre-built templates and easy drag-and-drop options, it offers customers an easy and quick solution to build professional-looking websites.
Perhaps, the biggest value that sets it apart from its competition is its beautifully designed templates that customers can use. It is no surprise that it is a popular choice amongst artists, designers, and professionals alike.
Millions of global merchants use Squarespace to run their online business and now thanks to Blockonomics, a bitcoin payment service, these merchants can accept bitcoin as a form of payment on their online store.
To accept bitcoin, merchants now have the option of something called a bitcoin payment link (URL).
Unfortunately, when it comes to accepting bitcoin payments Squarespace does not have the option to include a bitcoin plugin or to do a manual checkout like some other website builders.
So to accept bitcoin payments merchants have to set up a 'Bitcoin Payment Page' on their website.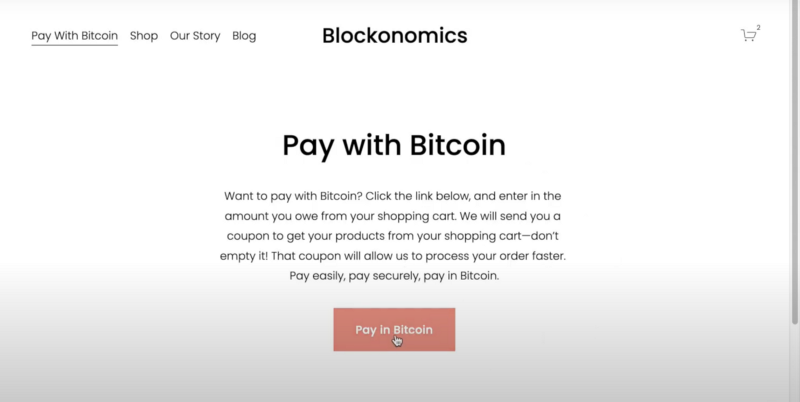 Upon clicking the 'Pay with Bitcoin' button, the customer is redirected to a payment page, where they need to manually enter the order amount and other details to make the payment.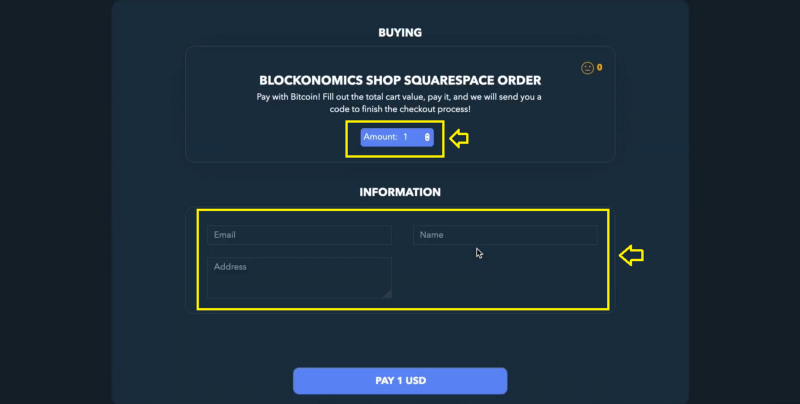 They will then be shown the Bitcoin address and the amount in BTC that they need to pay.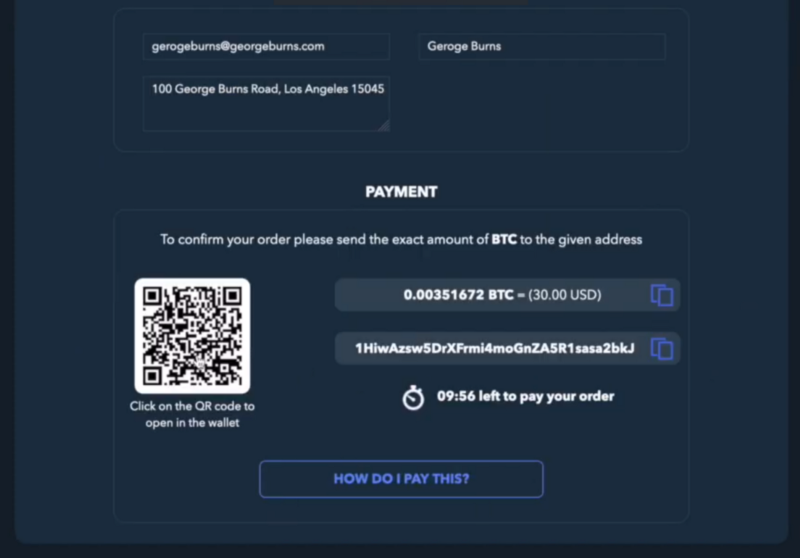 Let's see how you as a merchant can implement payment links and accept bitcoin on your Squarespace store!
Step 1: Create an Account
Head on over to the Blockonomics Merchants page and click on the 'Get Started for Free' button.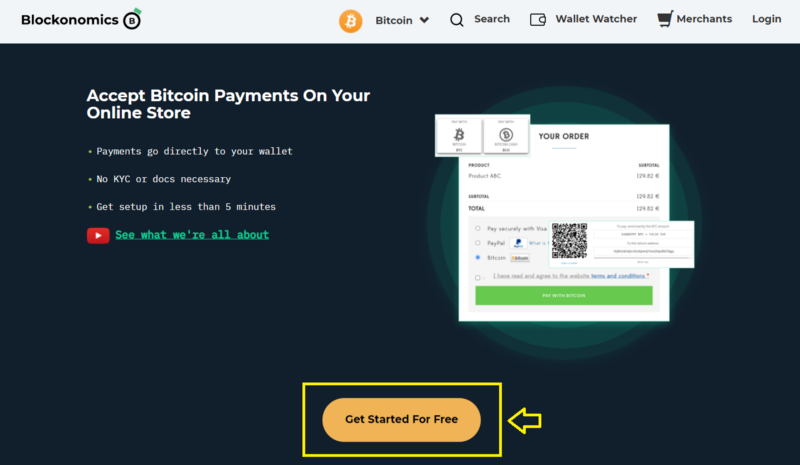 You will be redirected to a Sign-Up page. Fill out your email and password of your choice and create an account (You will be asked to enter an Activation Code to activate your account).
If you already have an account, simply click on the "Log In" button below.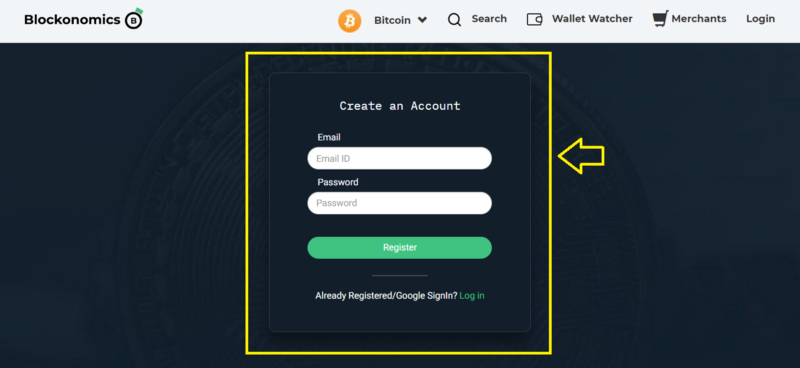 Step-2: Setup xPub Key
After you are logged in, click on 'Payment Buttons/Link' from the left side tab.
Under the 'Wallet' section insert the xPub key of your bitcoin wallet where you wish to receive the customer payments.
If you want to know the xPub key of your bitcoin wallet, click here.
You can also enter a 'Tag' for this xPub, sort of like a unique identifier name for you to keep track of your wallets.
After inserting the details hit 'Save Changes'

Step 3: Generate Payment Link
Now you need to create a Bitcoin Payment Link (URL) which will be used to accept bitcoin payments.
Head on over to the 'Products' section and enter the details of your product/shop.
Product Name: Enter the Shop's name.
Product Description: Enter details about your Shop.
Price: You can leave this blank or enter any small amount.
Customer Fields: Used for collecting customer information. Check as many fields as you feel necessary.
Donation Mode: Select this box (this is an important field so do make sure it is checked).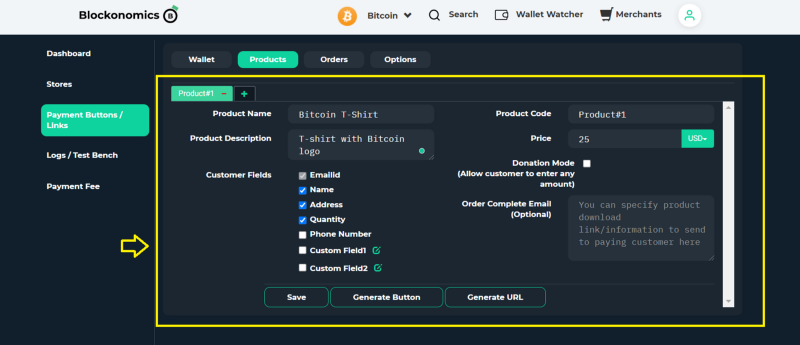 Click on 'Generate URL',
A Payment URL will be generated which you now need to add to your Squarespace store.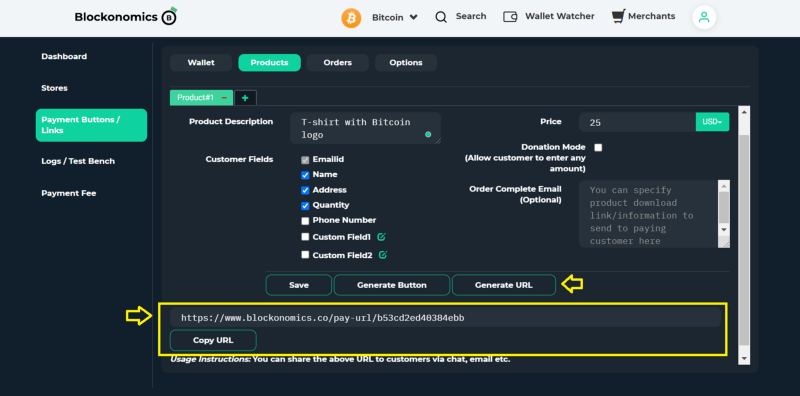 Step 4:
Now, head on over to Squarespace and log in to your website account.
Create a new webpage that the customers will use if they wish to pay with bitcoin, you can call this page 'Pay with Bitcoin'.
Add the Payment URL you made in the previous step, and include instructions for your customers on how to pay and what to do next.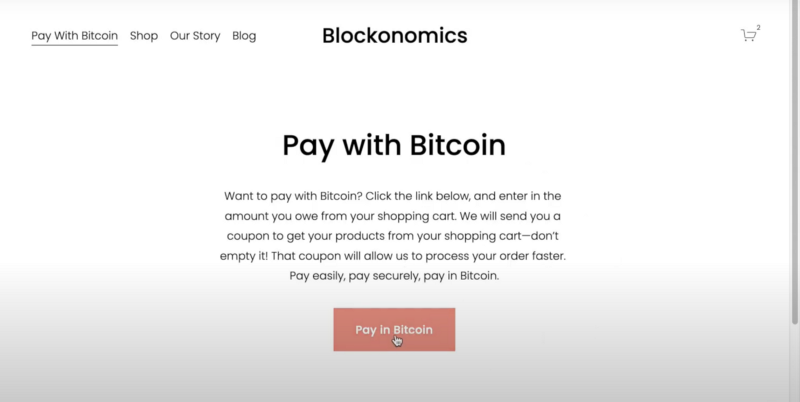 Step 5:
After a customer sends a payment, you will receive an email notification from Blockonomics.
Create a coupon code (Squarespace Website Account Home -> Commerce-> Discounts) for the customer equal to how much they paid in Bitcoin. Make it one-time use only, and then send the code to the same customer.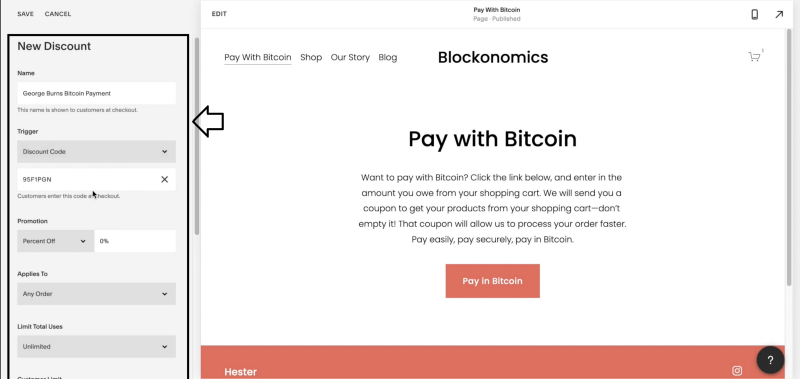 They can now use this coupon to complete the normal checkout on the website and complete their order.
'Publish' your site with the new changes.
That's it! You are now ready to accept bitcoin payments on your Squarespace site.
Conclusion:
Payment Links are a great way to accept bitcoin payments on your Squarespace store.
Although, because payment links are not integrated with Squarespace there is a limitation to this implementation:
You would have to manually verify payments and send coupon codes for each order.
But, despite this limitation, payment links are a great way to accept bitcoin payments and one of the only solutions currently available in the market.
Start accepting bitcoin payments on your Squarespace store now!