How to Sell Audios/Music for Bitcoin
Whether you produce music, audiobooks, or do podcasts, audio comes in a plethora of types.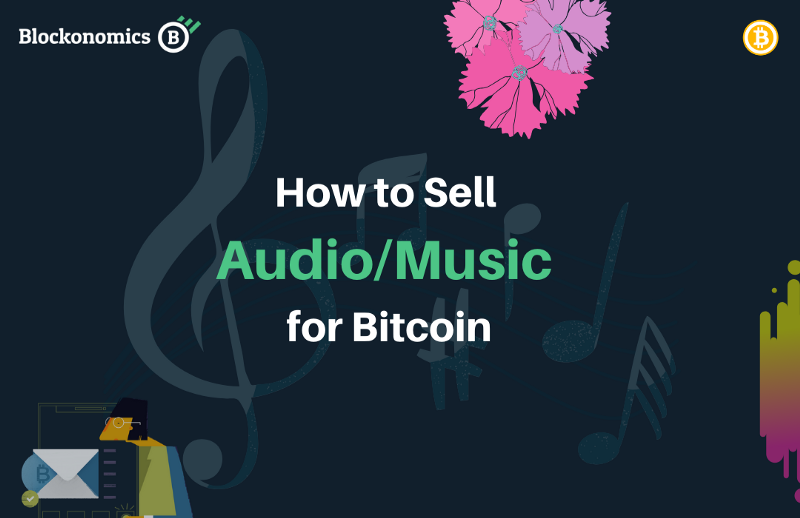 Whether you produce music, audiobooks, or do podcasts, audio comes in a plethora of types.
They are a great way to communicate with your audience and can be entertaining, informative, relaxing, comforting, and much more.
Audio can include:
Music
Podcasts
Audiobooks
Lectures/Courses
Sound Effects
If you are looking to sell your audio what better way to do so but with bitcoin, it is increasingly becoming a popular method of payment and can help you save a ton of money and time in fees and setup, unlike its fiat counterparts.
Plus you can start selling your audio in a matter of minutes, thanks to many services available today in the market that allows you to sell your audio for bitcoin.
For this tutorial, we will be using Blockonomics' Payment Link/Button, using which users can sell digital goods. It has one of the easiest onboarding and setup allowing users such as yourself to get started in a matter of minutes.
The purchase page for your Audio will look something like this: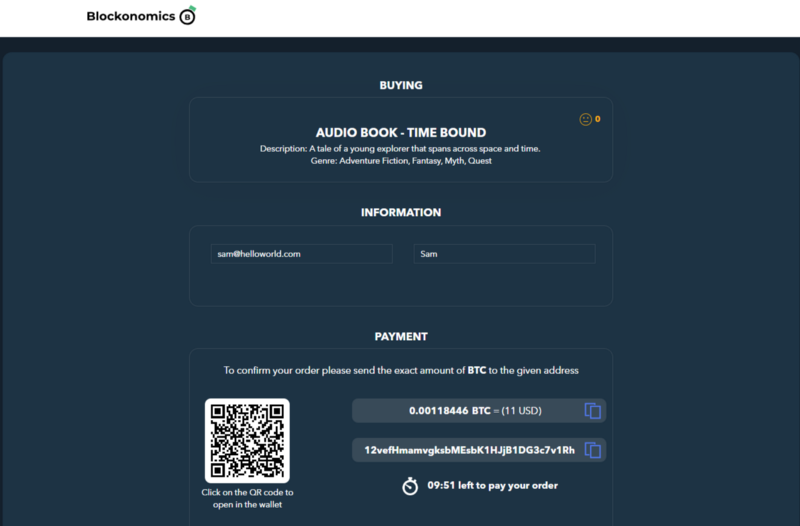 Now, let's have a look at how you can sell your Audio for Bitcoin:
Step 1:
Whatever audio you decide to sell, you need to host your audio file, which basically entails you uploading your audio to a hosting platform, where it is stored and shared with customers via a link.
There are many hosting services you can choose from, including:
Google Drive
DropBox
iCloud
OneDrive

It is important that your hosting service allows you to share your audio file via a link.
This is crucial, as this is the link you will be sending to your customers once they successfully purchase your audio.
Step 2:
Head on over to the Blockonomics Merchants page and click on the 'Get Started for Free' button.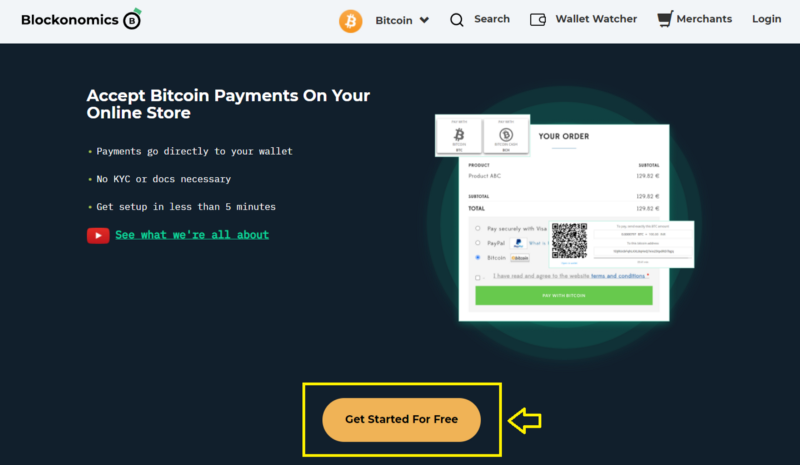 You will be redirected to a Sign-Up page. Fill out your email and password of your choice and create an account (You will be asked to enter an Activation Code to activate your account).
If you already have an account, simply click on the "Log In" button below.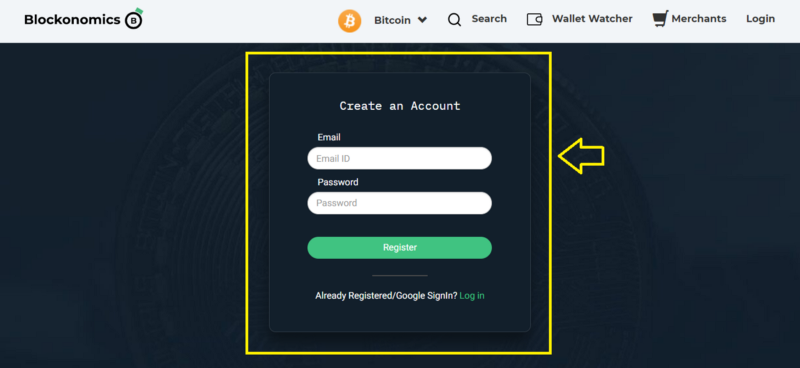 Step-3:
After you are logged in, click on 'Payment Buttons/Link' from the left side tab.
Under the 'Wallet' section insert the xPub key of your bitcoin wallet where you wish to receive the customer payments.
If you want to know the xPub key of your bitcoin wallet, click here.
You can also enter a 'Tag' for this xpub, sort of like a unique identifier name for you to keep track of your wallets.
After inserting the details hit 'Save Changes'

Step 4:
Now head on over to the 'Products' section, where you need to add details about your audio.
Product Name: Enter the Audio name.
Product Description: Enter details about the audio.
Price: Enter the price.
Customer Fields: Used for collecting customer information. Check as many fields as you feel necessary.
Donation Mode: Do NOT Select this box (this is an important field so do make sure it is unchecked).
Order Complete Email: Enter the message you wish to send to your customers upon successful payment. Also, this is where you add the Audio file's sharable link you created in Step 1 (Important: this is the only way your customers can receive the audio file so do make sure you add the audio file link here)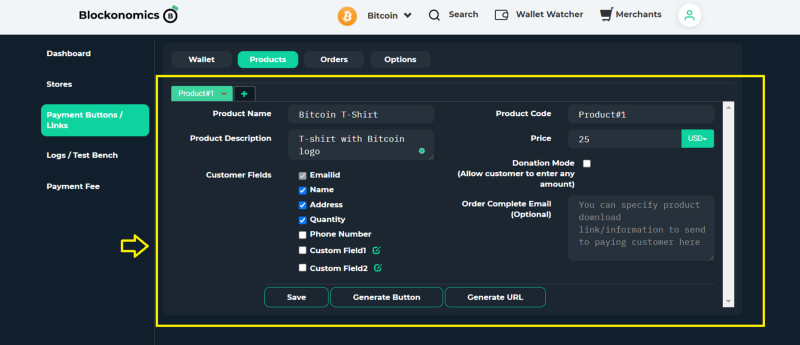 Click on 'Generate URL' or 'Generate Button', whichever you wish to create.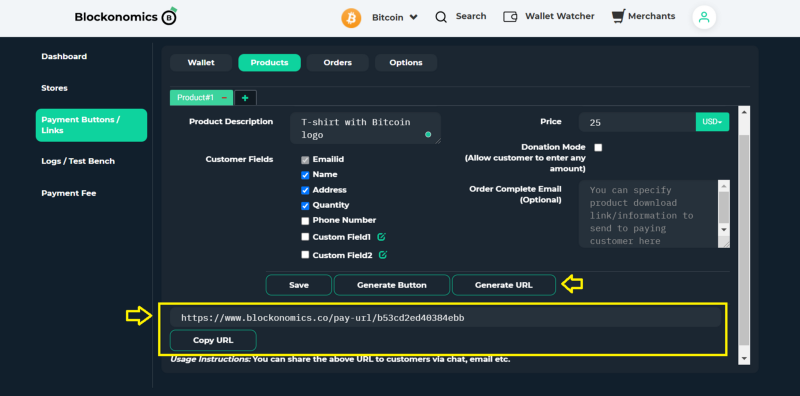 If you created a Payment Button, you will need to add the payment button to your website, the steps for which will be displayed to you when you generate the button.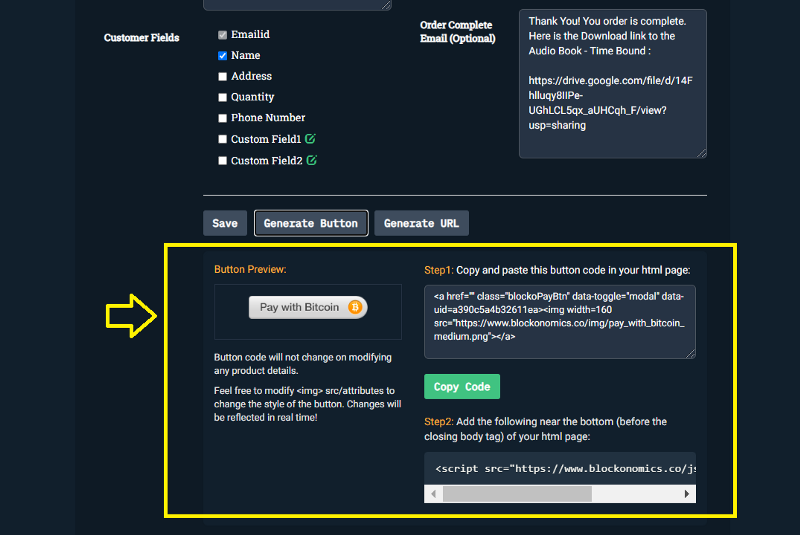 That's it! you are all set to sell your audio for Bitcoin. Go ahead and share your payment links online via emails, messaging, or social media, or add the payment button to your website.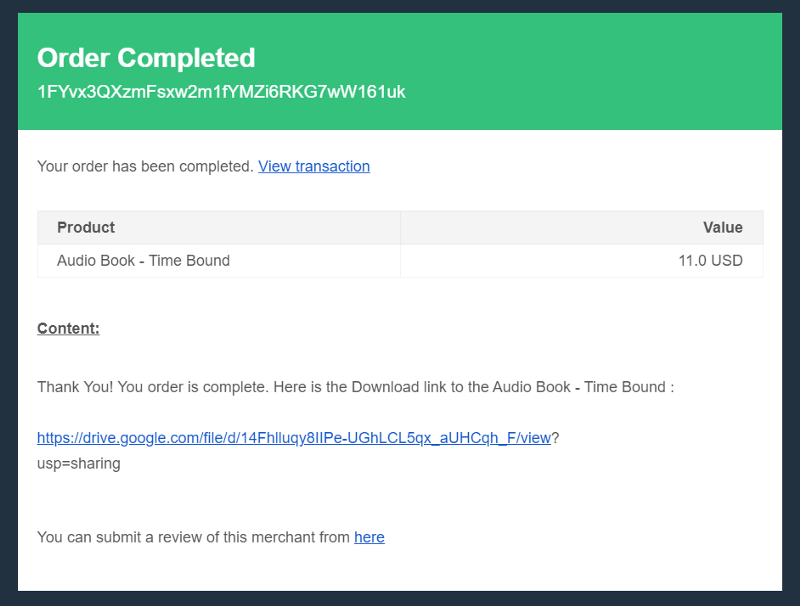 Conclusion:
Using Blockonomics Payment Link/Button you can start selling your Audio for Bitcoin in no time.
Although, it is worth pointing out that this implementation is rather minimal and basic and does not provide you with a lot of customization or functionality.
If you are looking for more advanced features such as customer profiling, download limits, analytics, discount codes, and so on then the above-mentioned method may not be for you.
But, if you are looking for minimal functionality and a quick setup to sell your audio then go ahead and use this method.