Top Bitcoin Trends for 2021
"The future of money is digital", a quote often used by bitcoin aficionados is starting to gain mainstream acceptance, and bitcoin's…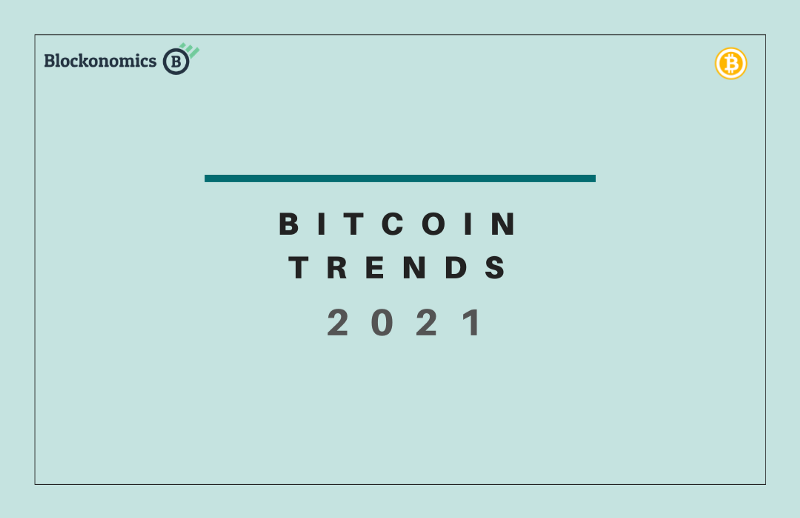 "The future of money is digital", a quote often used by bitcoin aficionados is starting to gain mainstream acceptance, and bitcoin's performance in the past couple of months holds testament to it to some degree.
Major players in the business world opened their doors to bitcoin and digital currencies legitimizing the role of such currencies in the mainstream market.
During the bull run that started a few months ago, bitcoin saw an influx of investments from some of the biggest names in the business world including Tesla, Microstrategy & Greyscale, and acceptance from financial behemoths like PayPal and Mastercard.
With so much momentum currently seen by bitcoin, what lies ahead? What kind of trends can be expected in the year 2021 for bitcoin?
Let's see…
Competition from Big Tech
Bitcoin may just be a decade old but it has managed to grab the attention of almost every tech giant that exists.
Whether these companies have a positive stand on bitcoin is uncertain but one thing is for sure that bitcoin is here to stay and these companies are already realizing that.
Payment giants such as Paypal and Mastercard are already preparing roadmaps to implement cryptocurrency payment options on their network.
Paypal already introduced a pilot project in 2020 that allowed users in the USA to buy, sell and store bitcoin in their PayPal account, and further implementation is expected to happen soon.
Following a similar trend, MasterCard announced that they will be providing support for select cryptocurrencies directly on their network.
"We are seeing this fact play out on the Mastercard network, with people using cards to buy crypto assets, especially during Bitcoin's recent surge in value" — Mastercard Newsroom
The growing interest in crypto is not just limited to payment companies, Google and Facebook are already planning the implementation of cryptocurrency.
Facebook launched its own cryptocurrency, Diem (formally Libra), which is in a development phase.
Rise in Institutional Interest
Unlike the bull run of 2021, the recent bitcoin price bull run hasn't exactly caught the media frenzy that propelled its name to the mainstream audience.
Yet, what we see this time is an increased interest from big companies and investors, who have either realizing or are on the cusp of realizing that bitcoin and digital currencies are here to stay and it's finally time to embrace this technology.
Bitcoin has seen a rise in institutional investments in 2020 continuing on to 2021. Companies like GreyScale and Microstrategy invested huge sums of their funds into bitcoin.
GreyScale, a digital currency investment platform, has about 65,166 BTC [about 3% of total bitcoin supply] under its management.
Microstrategy, a prominent business analytics company, holds 71,079 BTC, amounting to around $3.8 Billion at the current price of $53,712/BTC.
Interestingly, Morgan Stanley owns a 10.9% stake in the company [Microstrategy] making it indirectly the owners of about 7700 BTC. Similarly, the Norwegian Government Pension Fund owns a 1.51% stake in the company making it the indirect owner of 1000 BTC.
Elon Musk, SpaceX and Tesla owner, made headlines in early 2021, announcing a $1.5 billion investment in Bitcoin via Twitter.
Such investments from major companies are already causing a massive interest amongst investors to stock their money in bitcoin and it's likely to continue through 2021. Now, add this to the FOMO that is already generated with the latest bull run and investments news.
Continued Price Increase
Bitcoins' recent bull run is a bit different from the one it had in 2017. The current bull run can somewhat be accredited to the influx of institutional investors coupled with a FOMO amongst retail investors.
A lot of this interest can be seen as a result of the major investments made by companies such as Microstrategy, Greyscale, Tesla, plus, tech giants such as Square, PayPal, and Mastercard who revealed their plan to expand their product suite to cater to the cryptocurrency market.


CoinFunda
No one can predict the future market but the outlook looks optimistic at least for the coming months.
Volatility
The one thing that will remain constant in 2021 is bitcoin's volatility. A long-standing critique for bitcoin has been its highly volatile nature that sees massive price changes making it too risky for a currency.
In 2020, bitcoin's highest price was $28,768 [Dec 31] while the lowest was $4,944 [Mar 17], a price change of about 480%.
Bitcoin's volatility index currently stands at 4.63% [60 days BTC/USD].
Increased Regulations
As we see bitcoin go more mainstream a tighter regulatory framework is expected to follow not just to safeguard people's digital assets but also to pave the path for current institutions, financial or otherwise, to embrace the technology and develop upon it.
CFO Rowland
Although digital assets themselves cannot be regulated as they are designed to be self-governing, the markets which interact with these currencies can certainly be.
And as we see a rise in investors, both institutional and retail, enter the space such regulations are expected to follow which would in turn further attract more investors.
Each country has a different approach to digital currencies so do expect large discrepancies within the regulatory sector.