Top Crypto Portfolio Tracker for 2022
A handy tool for most cryptocurrency holders, whether they are investors, HOLDers, or traders, crypto portfolio trackers are becoming a…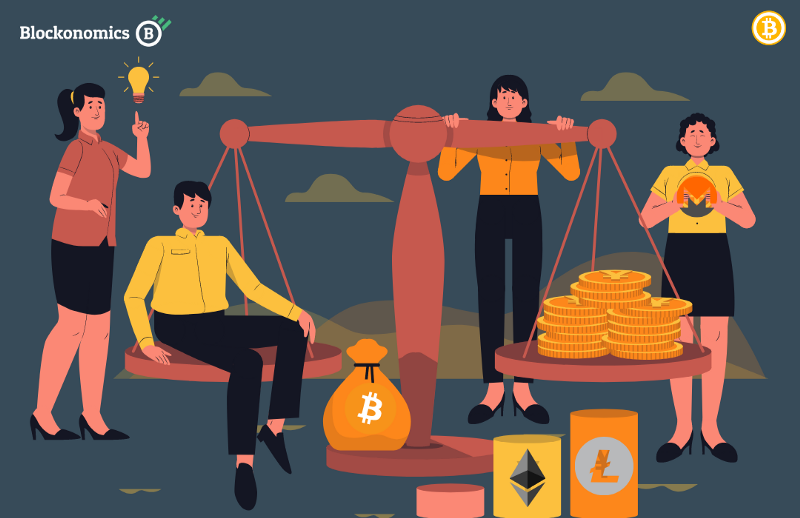 A handy tool for most cryptocurrency holders, whether they are investors, HOLDers, or traders, crypto portfolio trackers are becoming a necessity in the crypto space.
A place to keep track of all your crypto assets and know gains/losses, price trends, and track your investments all in one place.
It is no surprise that the market is full of crypto portfolio trackers that cater to the many needs of its users and have varying features and benefits.
Here is a list of top cryptocurrency portfolio trackers of 2022:
Cointracker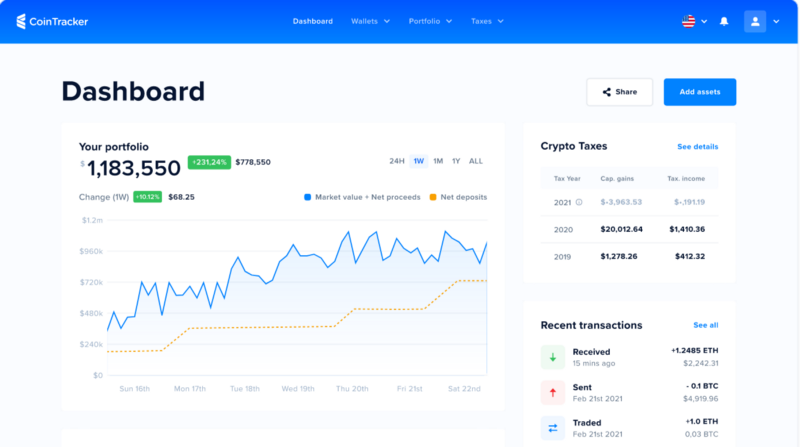 One of the top crypto portfolio trackers, Cointracker, was launched in 2017 by Chandan Lodha and Jon Lerner, offering its users a simple and powerful tool to keep track of their crypto portfolio.
Cointracker offers an intuitive dashboard with real-time prices, portfolios, assets, transactions, as well as historical data. It offers a mobile for both Android, iOS.
As for coin support, there are more than 10,000 cryptocurrencies that are listed on the platform allowing almost every possible asset to its users.
Additionally, Cointracker also allows users to keep track of their tax requirements and download tax reports from its platform. It fully supports US, UK, Canada, and Australia with partial support for others.
Pricing: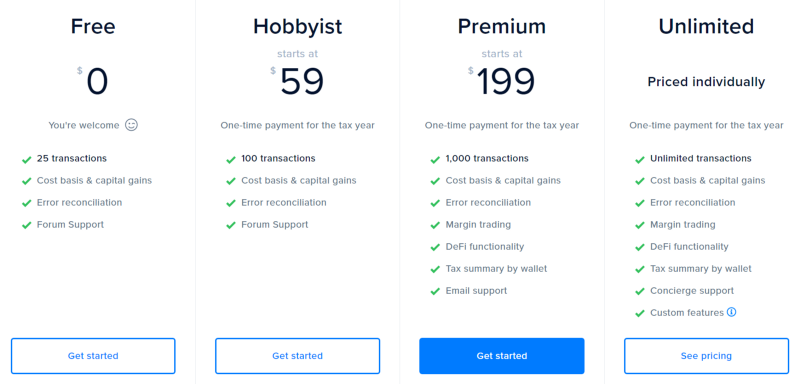 Pros:
Offers tax information
10,000+ coin support
Friendly UI
Cons:
Expensive for higher transactions per month
CoinStats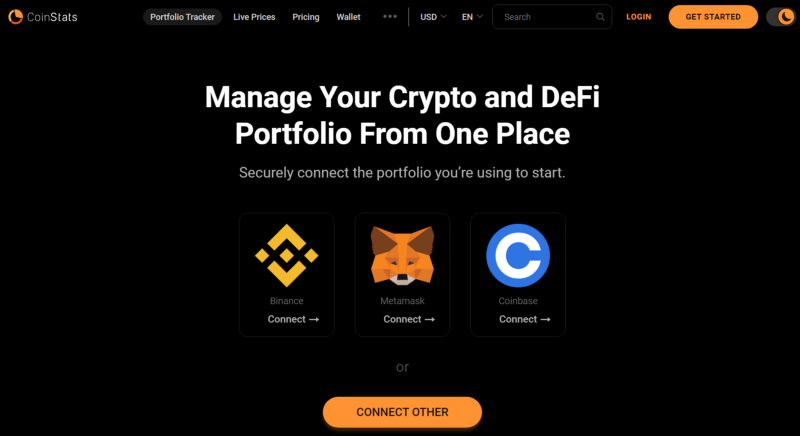 A powerful crypto tracking platform, CoinStats, combines unique analytics and user-friendly UI to help users manage their crypto portfolio.
The best part of using CoinStats is the single dashboard which provides the holistic view of your entire crypto portfolio making it extremely convenient to keep track of your assets.
You can easily connect your account to most crypto exchanges and wallets which automatically updates your portfolio and keeps track of all the movements.
Additionally, it offers a specialized feature that allows you to trade on multiple crypto exchanges from a single platform. Plus, you can buy crypto assets with fiat directly from the platform.
Pricing: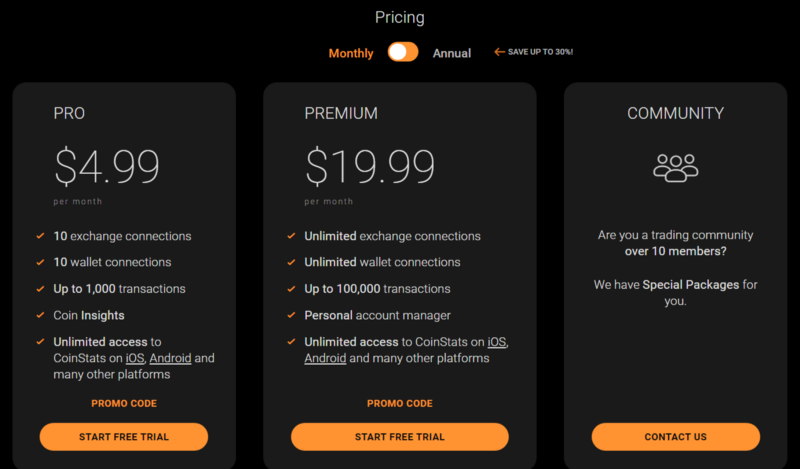 Pros:
Allows trading on multiple exchanges
Reasonable pricing
Powerful insights
8000+ crypto assets supported
Secure
Cons:
Some bitcoin wallets are not supported
Apps have limited features compared to web/online platform
Delta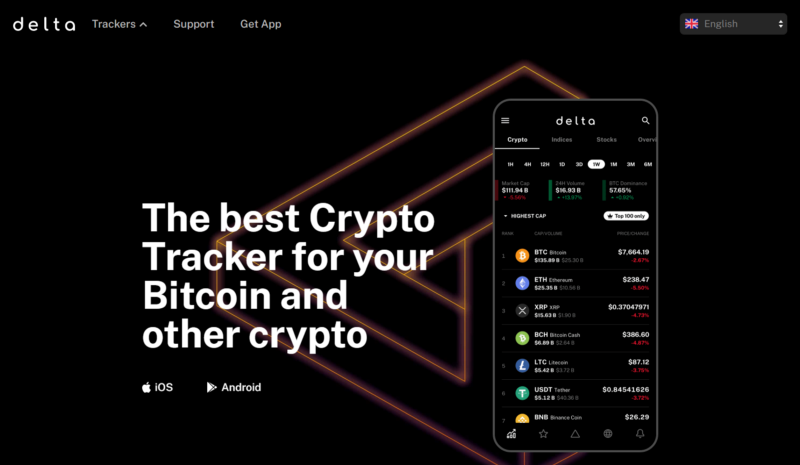 Used by millions of users worldwide, Delta, is a one-of-kind portfolio tracker offering unique features to its users combined with a great UI.
Delta supports more than 300 crypto exchanges and more than 5000 coins and a beautiful platform to track your assets.
One of its rare features includes the ability to track not just crypto assets but other holdings such as stock, currency, futures, ETF, mutual funds making it extremely efficient for investors with multiple holding to track their complete portfolio.
There is also app support for Android and iOS users.
Pricing:
Free
Pro: Varies by country [unlimited exchange account connections, portfolio analytics, real-time prices, ability to sync 5 devices, monochrome mode, etc.]
Pros:
Intuitive UI
Multiple assets support in addition to crypto
Good support
Secure
Cons:
No trading with exchanges
No buy/sell feature
Kubera
A complete wealth portfolio tracker, Kubera, is one of the few platforms that offer a diverse range of asset tracking on a single platform.
In addition to crypto assets users can track:
Global stocks
NFTs
DeFi
Homes/Cars/Metals
Domains
Fiat: Bank Accounts
You can get a holistic view of your entire wealth on a single platform, and what's even better is the great UI, that makes asset tracking a breeze for most users. It has a spreadsheet-like design that makes asset management clutter-free and simple.
Pricing: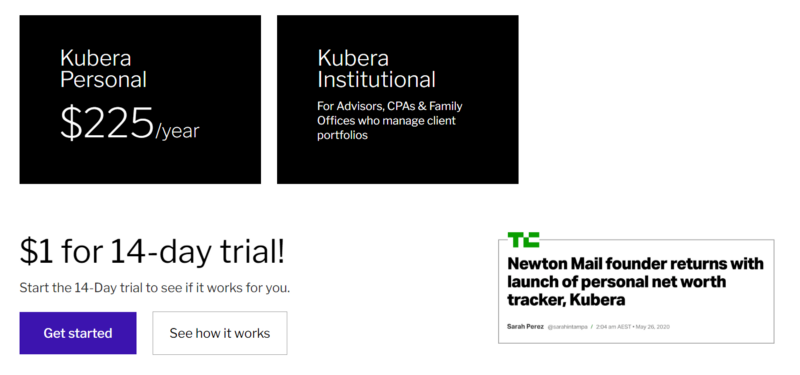 Pros:
Diverse asset tracking
Secure
Cons:
No income or expense tracking
No tax support
Accointing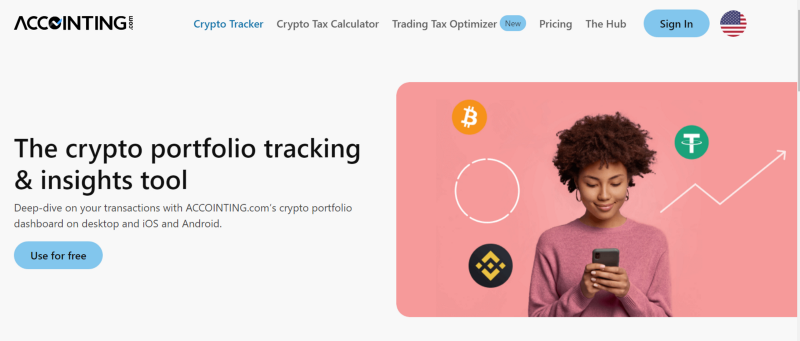 A crypto portfolio and tax platform, Accointing, is one of the popular choices to track your crypto assets and know your tax requirements at the same time.
Accointing supports 400+ exchanges, wallets, and blockchains and its tax reports can be generated by users from the US, UK, Germany, Switzerland, Austria.
Its intuitive platform offers a holistic view of your entire crypto-assets and provides data for buy and sell date, net profit, overall gains, and so much more.
Accointing offers mobile support in the form of Android and iOS apps.
Pricing:
Free: 25 transactions per year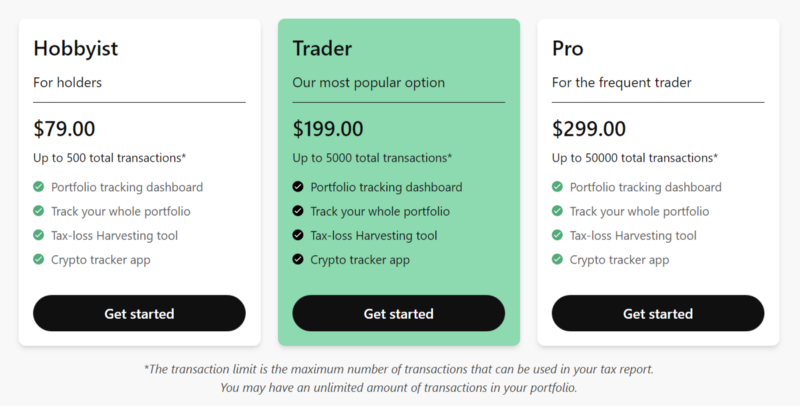 Pros:
Easy-to-use interface
Supports over 300 wallets and exchanges
More than 7,500 currencies supported
Available for desktop and mobile
Cons:
No crypto trading with exchanges
No buy/sell with fiat
CoinGecko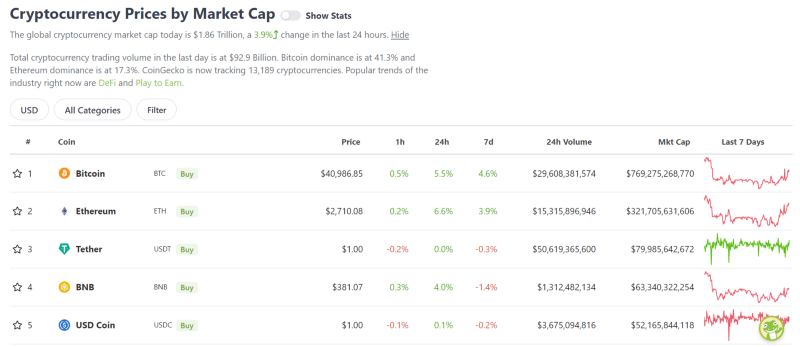 A popular coin analysis tool used to gain insights into the market, CoinGecko also offers a Portfolio tracker platform,
You can keep track of the price changes, market cap, volume, of all your crypto investments along with the live rates.
It is even supported on mobile in the form of Android and iOS apps.
The option is not as feature-rich as the other platform but does a job in giving a snapshot of your crypto investments.
Pricing: Free
Pros:
Large coin support as well as ICOs
Secure
Simple UI
App Support
Cons:
Lacks advanced tracking features
No tax information
Conclusion
When you decide on a crypto tracking software, do take into account the many varying features that each software offers, while some offer tax reports others offer an option to keep much detailed and feature-rich tracking capabilities.
Cointracker and Accoiniting are good options if you are looking for tax reports and information for your investments. Although the number of countries supported is rather limited.
Delta and CoinStats offer a feature-rich platform with multiple coins, exchanges, and wallet support.
Kubera along with Delta offers a much wider portfolio with assets outside the crypto space to be tracked on the same platform.
For a more basic experience, you can choose CoinGecko.