What should you consider when choosing a crypto payment gateway for your business?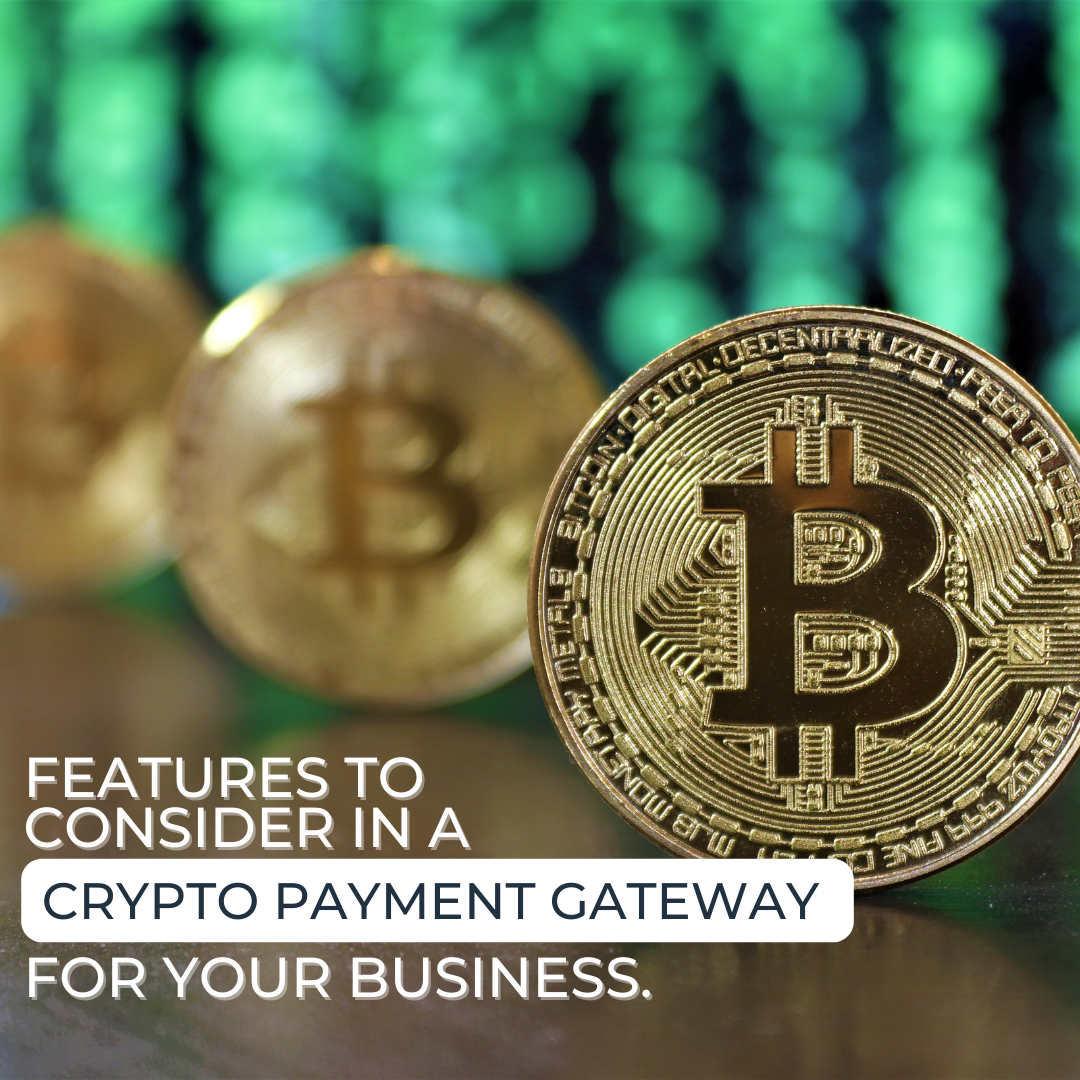 The world of cryptocurrency is rapidly evolving, and with it, so too are the options for businesses when it comes to payment processing.The growing popularity of digital currencies has led to a new wave of cryptocurrency payment gateways as businesses try to integrate into this space.
There are a number of different cryptocurrency payment gateway options available, each with its own advantages and disadvantages. So how do you choose the best one for your business? In this blog post, we will explore some of the key factors to consider when choosing a cryptocurrency payment gateway for your business. From transaction fees to security and customer support, we will cover everything you need to know to make an informed decision.
What is a crypto payment gateway?
A crypto payment gateway is an online service that allows you to accept digital currencies like Bitcoin as payment for your goods and services.
How does a crypto payment gateway work?
Step 1
Once your customer chooses a product or service they want to purchase on your website, they'll be offered the option to pay with crypto or digital currencies using a cryptocurrency payment gateway e.g. Blockonomics.
Step 2
The customer will then be locked into a transaction window that freezes the market exchange rate of the cryptocurrency they want to spend that is equal to the amount of the goods or services they are purchasing.
Step 3
After completing this transaction, the cryptocurrency is transferred automatically into the merchant's virtual wallet.
Factors to consider before choosing the right cryptocurrency payment gateway for your business.
Cost
Consider the fees charged by the gateway because different gateways charge different fees for their services. Some charge per transaction, while others charge a monthly or annual fee.You will want to find a cryptocurrency payment gateway that is cost effective for your business. For instance, many crypto payment gateways such as Blockonomics and Coinbase charge a 1% transaction fee.
Security
The security of your customers' information should be a top priority when selecting a cryptocurrency payment gateway. Security from hackers and threats is paramount when dealing with financial matters. What measures has the provider taken to ensure your money will be protected? Choose a gateway that offers robust security features to protect your customers' data.
Website Integration
The chosen cryptocurrency payment gateway should be easy to integrate with your website. Look for a gateway that offers smooth and seamless integration and is compatible with your website platform.
Support and Customer Service
Good customer support is essential when using any type of payment gateway. Do you feel confident that your merchant account provider will work with you to solve any problems or answer questions about using a crypto payment gateway? If so, how are they going about this support—by phone, email, live chat? It may not seem important, but you will be glad when urgent problems arise if you have researched your provider's customer support and picked one that is effective and efficient
Innovation
Does the chosen cryptocurrency payment gateway embrace innovation? The crypto industry is constantly changing, so you should choose a Bitcoin gateway that keeps up with these developments. That way, you can take advantage of the latest innovations in this field and have them help shape your payment strategy for years to come. Look for a provider that is always looking for ways to improve their service and stay ahead of the curve.
Features offered.
Some gateways offer more features than others, so it's important to find one that offers the features you need for your business. For example, if you're looking for a gateway that offers invoicing capabilities or importing bitcoin sales into Quickbooks, make sure to find one that offers this feature.
Reviews and reputation
It is said that experience is the best teacher. It is important to read reviews to gauge the experience different people have with different payment gateways. This is because reviews give a clear depiction of the reputation a gateway holds. This valuable guidance attest to a company's reliability and gives insight into the quality a company provides.

Conclusion
Overall, the cryptocurrency payment gateway is already a solution for many financial problems that businesses face. Whether it is low transaction fees, their speed of service, or customer anonymity and security, cryptocurrencies will save businesses money, time, and effort in the future. On top of these benefits, there are many new innovations being worked on to garner even more consumer trust and interest. In the end, cryptocurrencies have made some real improvements to the way businesses transact financially with customers, and these improvements will only continue to increase in the coming years. There are plenty of crypto payment gateways popping up all over the world. These payment gateways give you a wide range of options to select from, but how do you decide which one is the best for you? By keeping tabs on these aforementioned points, and weighing their pros and cons, you can find the gateway that best fits your ecommerce business plan.