Too many small business owners, whether they are in postcolonial countries, developers who want more flexibility, or shopkeeps who just want an easy system, suffer at the hands of greedy payment processors, crypto or otherwise. Blockonomics is at the forefront of the push to democratize ecommerce payments, to change the way payment processors work. Do you want to get in on the ground floor?
What is Blockonomics?
Blockonomics was founded in 2014, originally working to help track Bitcoin transactions easier. We developed a block explorer, but quickly moved into ecommerce payments in 2015. Since then we've grown quite a bit, from developing a wide variety of ecommerce bitcoin payment plugins and tools, including being one of the top Wordpress Bitcoin plugins, but also in having one of the premier Block Explorers and Wallet Watchers on the web.
We pride ourselves in believing in the meaning of Bitcoin, and that it can help all kinds of people. Our payment solutions are direct to wallet, meaning we don't act as a middle man, we never touch the Bitcoin in the transactions.  Our products are used around the world, as we try to bridge the gap between flexibility, security, and ease of installation.
Blockonomics believes in helping small business owners and fighting against the greed of banks. We believe that Bitcoin helps achieve that in its original form, and we promote that by including things like Direct to Wallet payments in our products.
We also believe in openness. Our code is on GitHub, we enjoy having others look at our code and improve on it because we believe that improvment comes from collaboration and helping others. That's also why we have sponsored many Wordcamps including Wordcamp Vienna 2022.
Remote Working - How are we different?
Blockonomics is a unique place to work. We've been remote since our founding in 2014.
Truly geographically remote - When we started we had a philosophy of hiring best across the world irrespective of location. Today, we have 8 employees spanning across 4 continents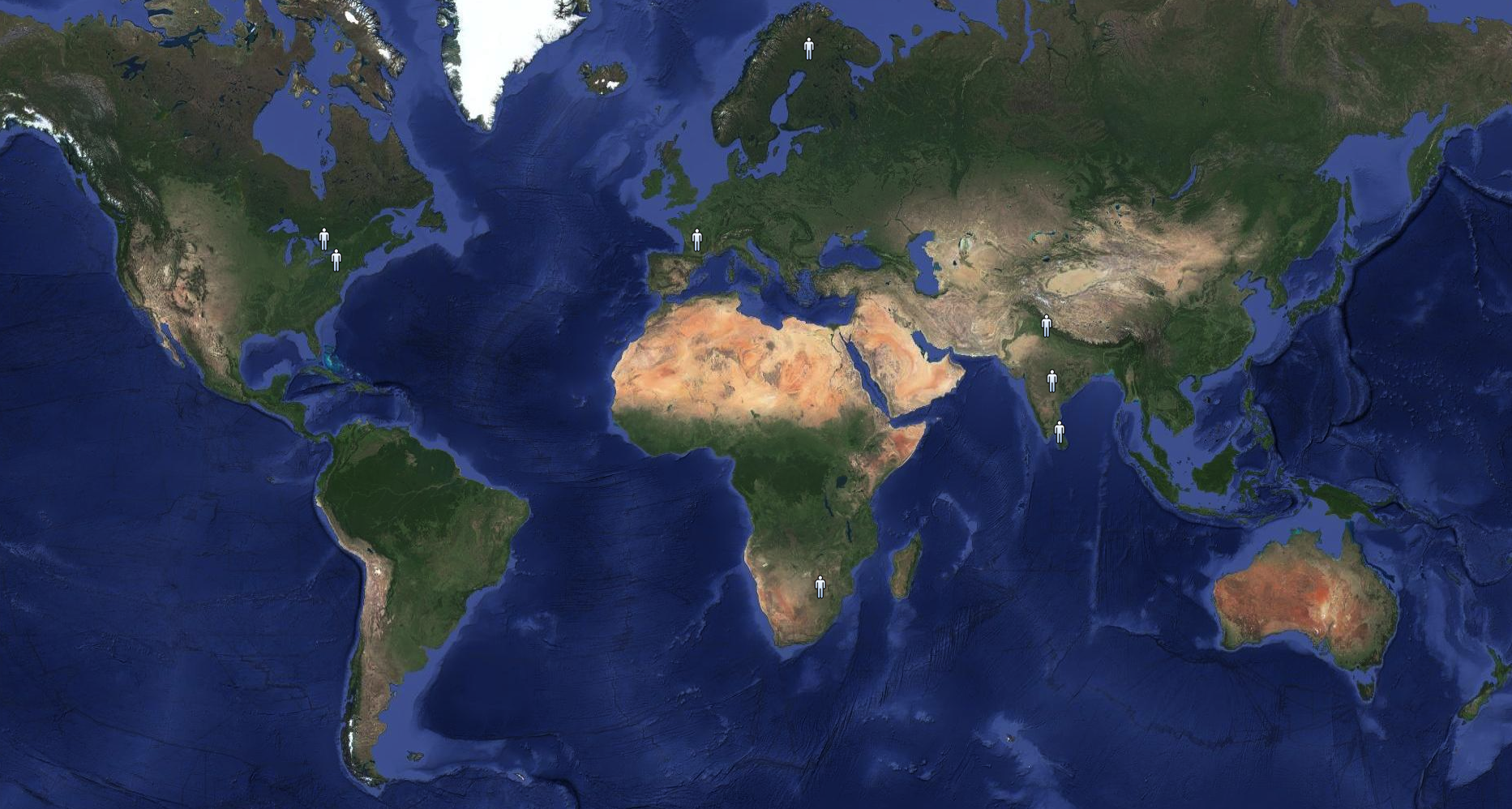 Asynchronous work - In some companies remote working means just replacing offline meetings with online zoom meetings. Truly remote working involves asynchronous work in which each member puts effort in contributing their work in documents/code and things are built upon progressively with time. We also have almost zero meetings and communication happens via slack and tools like asana/trello    
No deadlines/timesheets - We don't believe in working 9 to 5, and having micromanaging bosses. It takes some getting used to if you're coming from a regular office job, but we know it produces results. You have the ability to work when you work best, and there's no need to fill time quotas. As long as you get the work done, you're doing your job. Work-life balance is key, a happy employee is a productive employee
We value diversity and culture - With people from different parts of the world we get different culture viewpoints on various problems and it helps us to remain humble and broaden our thoughts. In 2022 we had our first annual company meetup, that included several days in Vienna combining work with pleasure. We road bikes on Danube Island, and enjoyed fine wine at a hueriger. This video shows it all:
So What is it like Day to Day?
The average day at Blockonomics is relatively relaxing. You don't have to wake up at 8am if you don't want to. Because our team is spread around the world, there's no expectation of working certain hours. For example, I normally wake up about 9am and log into Slack. I see what my Indian colleagues have worked on, and if there's any action items I need to take a look at. I'll start working on my video or blog posts for that day. My Canadian colleague normally pops on mid-morning and we'll coordinate then. All our coordination is on Slack, Marketing only has a meeting once a week, normally Tuesday, on Zoom. Otherwise, we limit communication to Slack.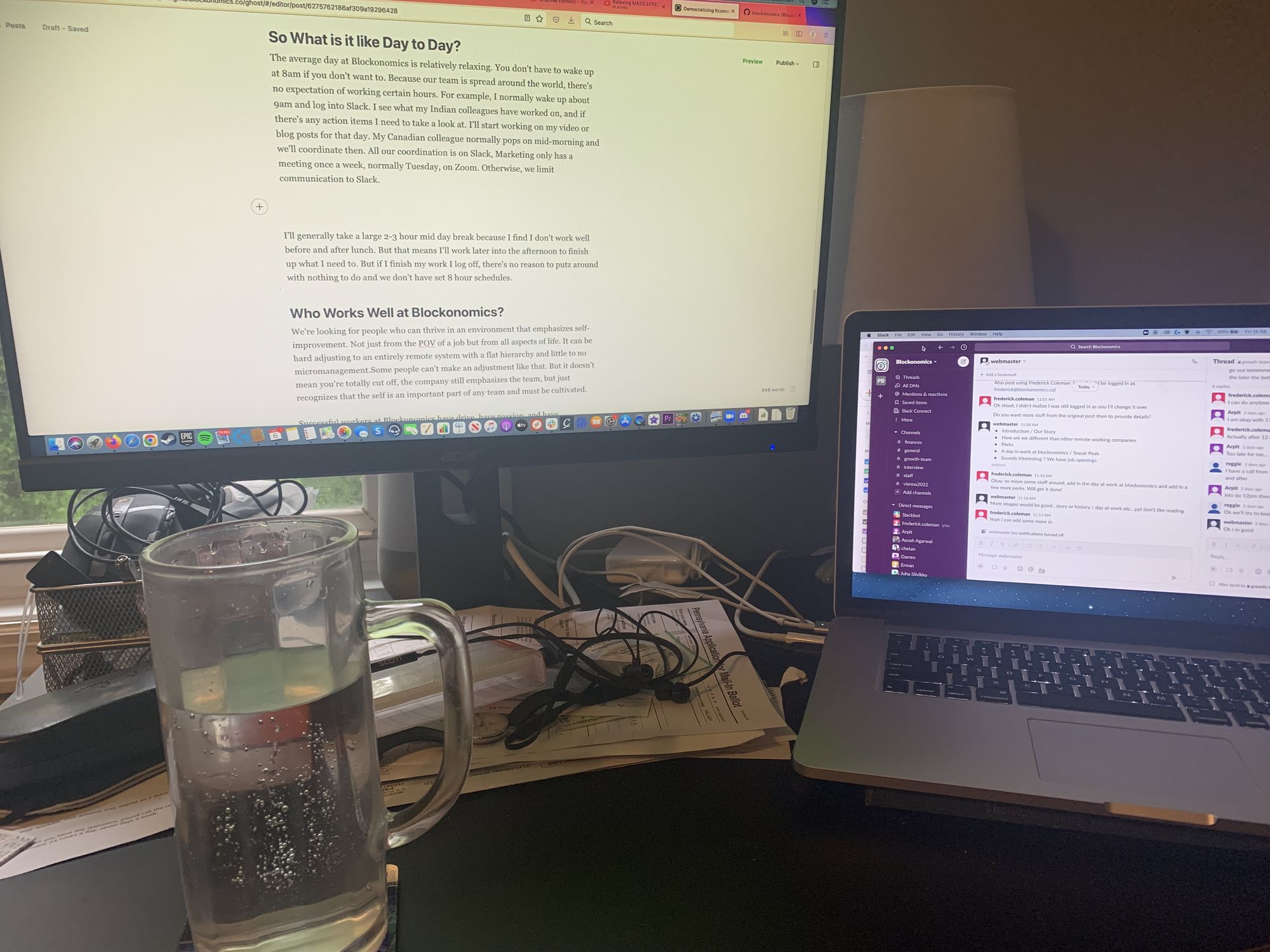 I'll generally take a large 2-3 hour mid day break because I find I don't work well before and after lunch. But that means I'll work later into the afternoon to finish up what I need to. But if I finish my work I log off, there's no reason to putz around with nothing to do and we don't have set 8 hour schedules.
Buy don't take my word for it, here's some of my colleagues describing how they came to Blockonomics and what they do day to day:
Who Works Well at Blockonomics?
We're looking for people who can thrive in an environment that emphasizes self-improvement. Not just from the POV of a job but from all aspects of life. It can be hard adjusting to an entirely remote system with a flat hierarchy and little to no micromanagement.Some people can't make an adjustment like that. But it doesn't mean you're totally cut off, the company still emphasizes the team, but just recognizes that the self is an important part of any team and must be cultivated.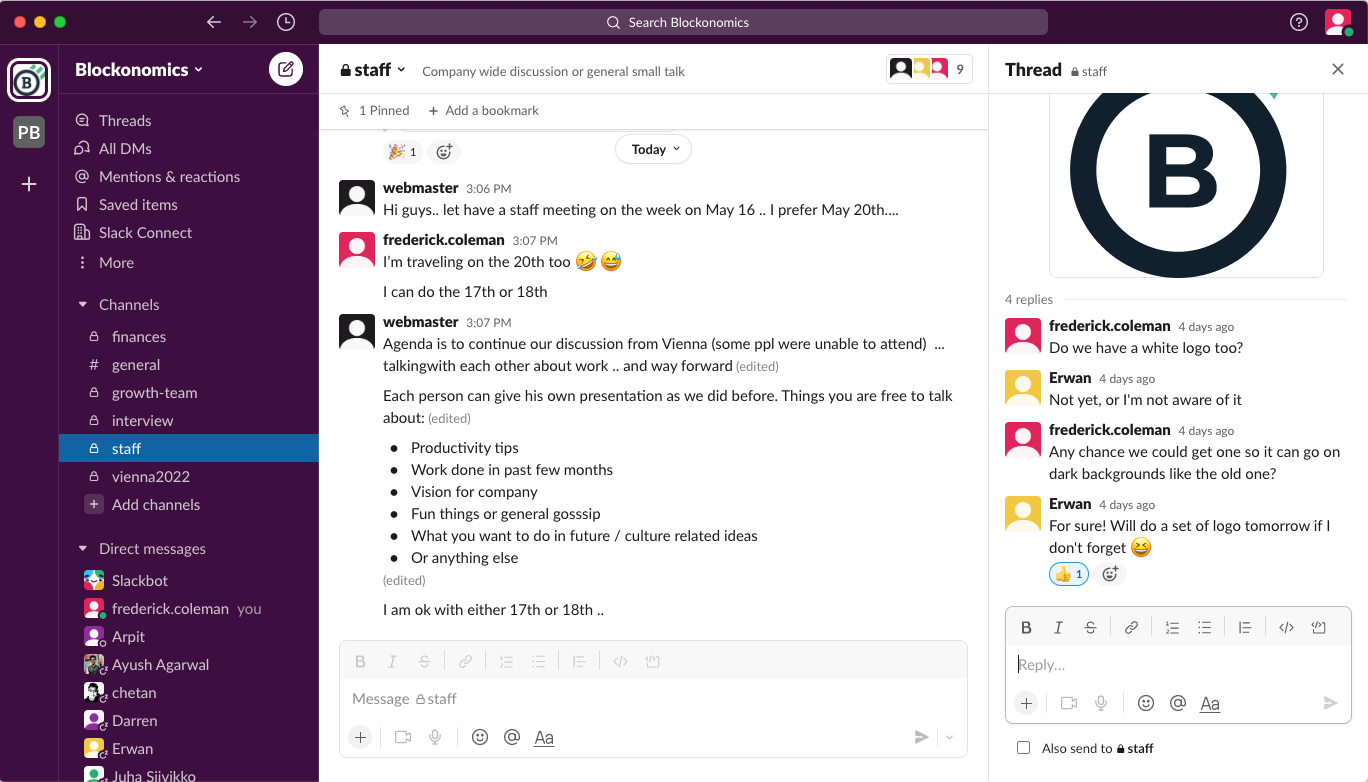 Successful workers at Blockonomics have drive, have passion, and have organization, but still appreciate the necessity for a work life balance. Still appreciate that work is not everything. If that's you, we'd love to have you on the team.
But What can Blockonomics Give Me?
There are many perks to working at Blockonomics
Flexibility - We know you have an entire life out there, and we don't expect you to be married to work. Do your thing, go traveling, take care of your kids, what ever you need to do. As long as the work gets done we don't care how long it takes.
You get paid in Bitcoin - It serves as an easy way to earn Bitcoin for your investments, and its much easier to handle bank processes then trying to exchange fiat currencies.
Profit Sharing - We are a bootstrapped and profitable company. Our long term employees have well deserved share in the company profits.
Unlimited Leave - We don't have any bureaucratic leave policies. We trust our staff to balance work/vacation as per their own discretion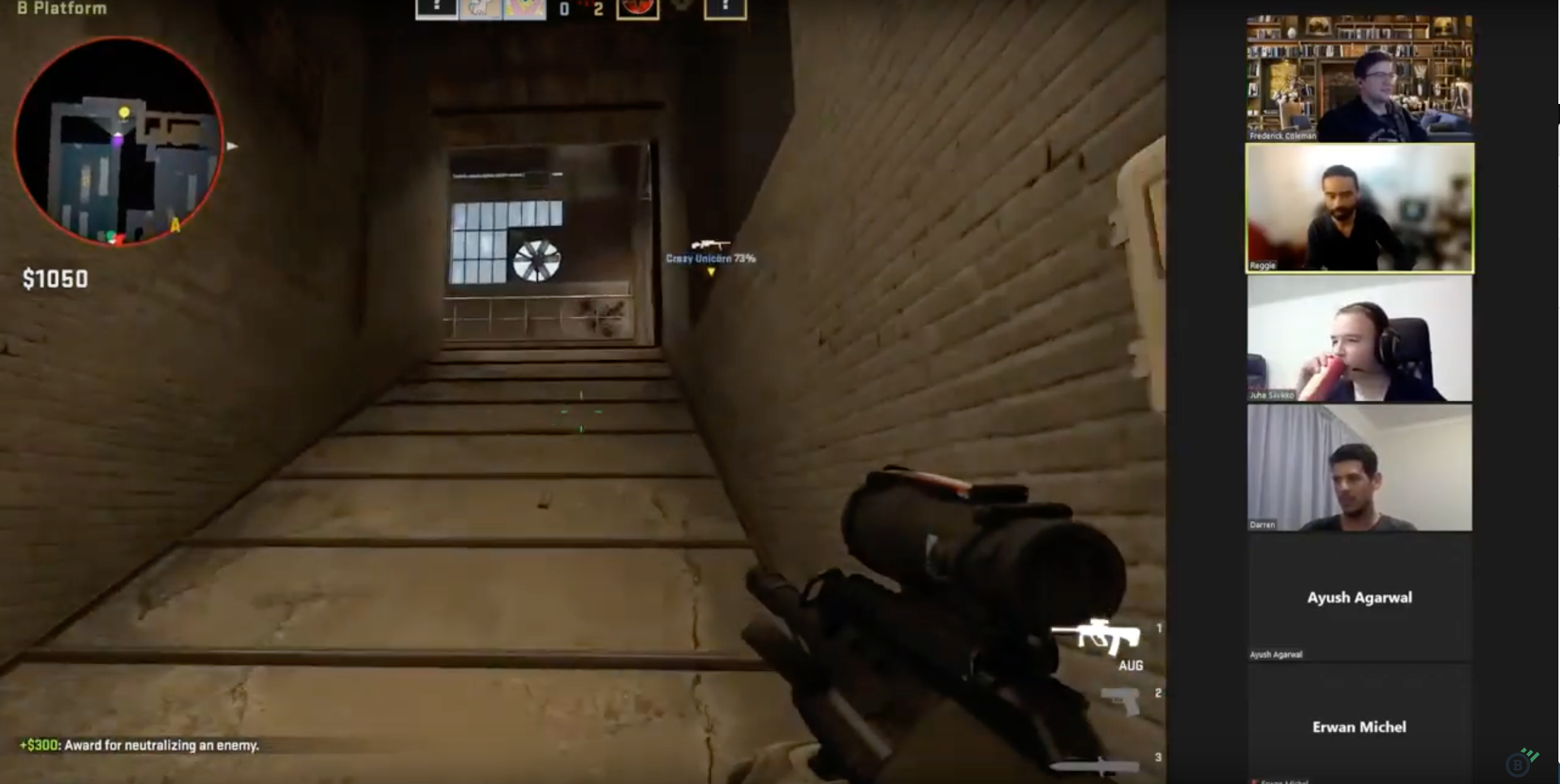 Like what you see?