Crypto Payment Gateway Market to Grow 250% by 2029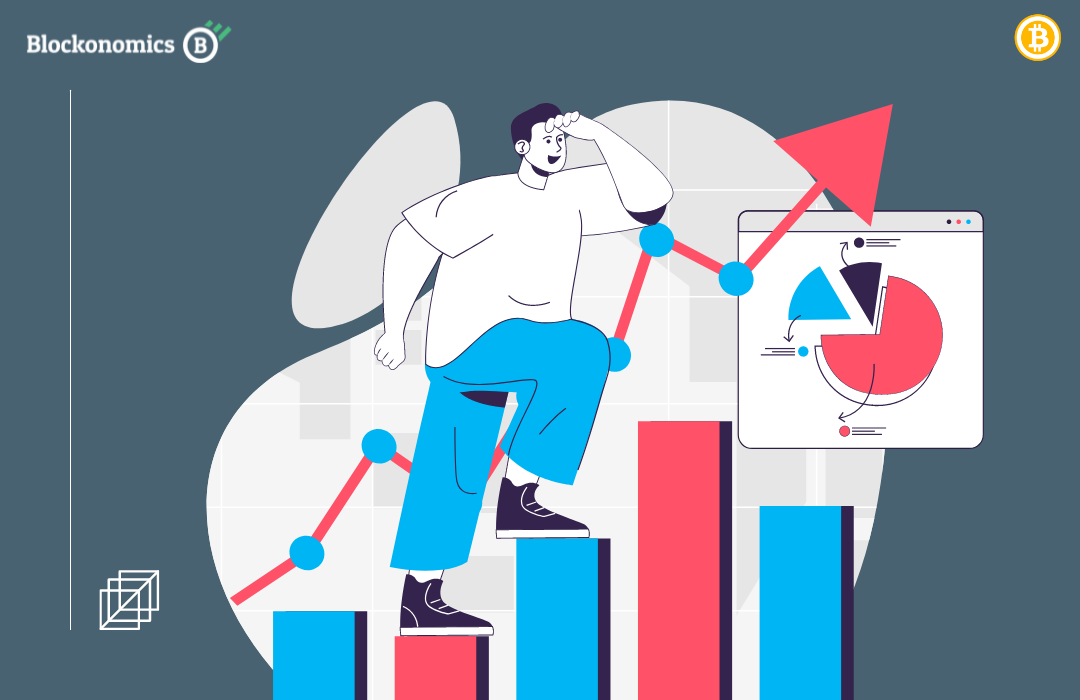 Crypto Payment Gateway is expected to see a huge influx of users over the next 10 years thanks to its revolutionary technology and growing adoption of crypto users worldwide.
Crypto Gateways' market value stands at $1.19 Billion as of last year, with North America dominating the major chunk of this market with more than 50% share. It is forecasted that the market is expected to reach a valuation of $4.12 billion by 2029, growing at a CAGR of 16.8%.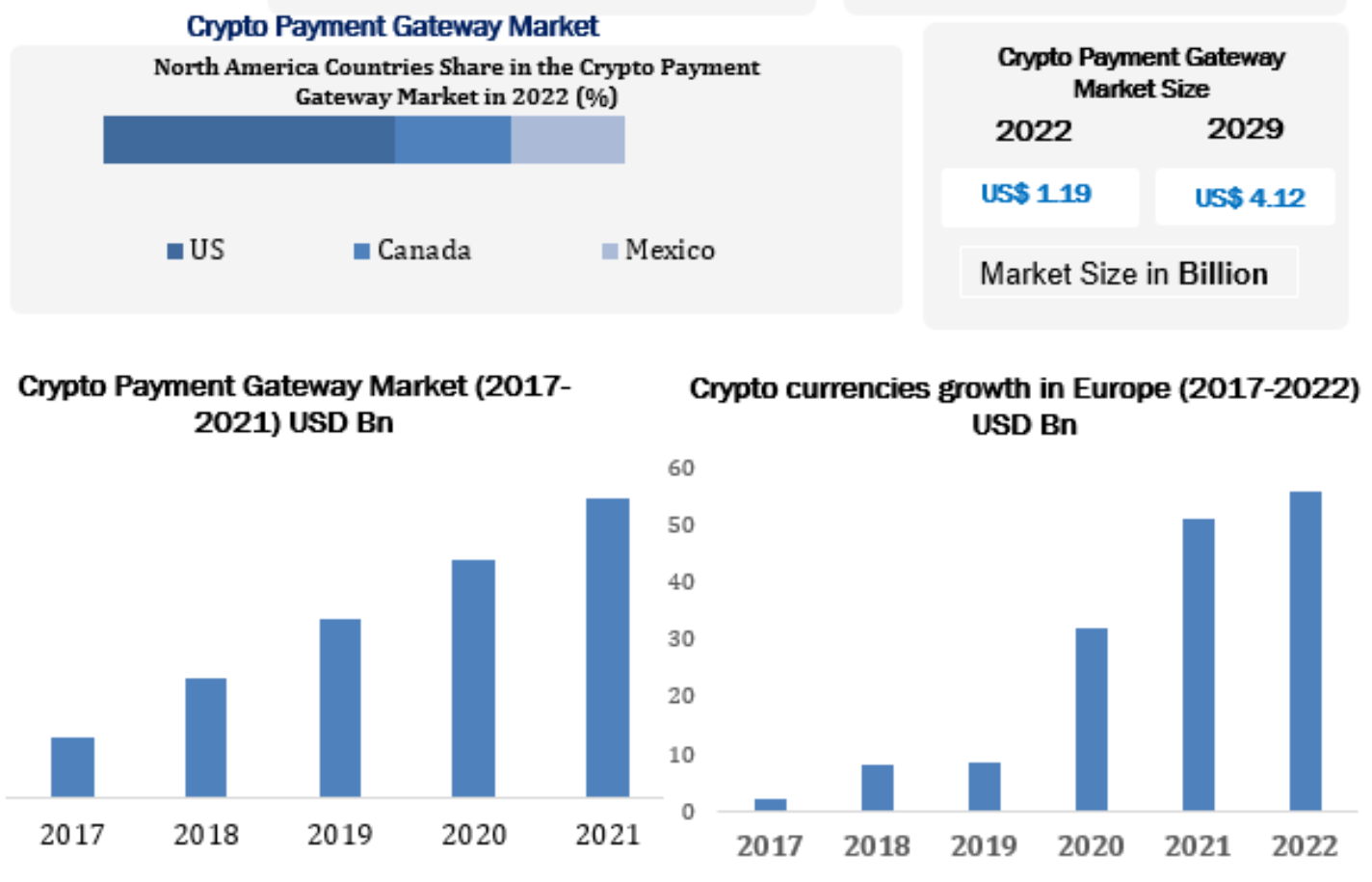 When compared to the total cryptocurrency market cap which currently stands at $1.18 trillion, the crypto gateway market may seem like a small number but it is important to understand that crypto gateway provides a real-world insight into crypto adoption as a currency as opposed to just an investment, which dominates the crypto ecosystem right now.
A forecast of 16.8% growth over the next decade signals a much wider use case for crypto and its global acceptance as a currency alongside fiat.
There are quite a few factors that will propel its growth over the next few years:
Decentralized
Blockchain technology which forms the backbone of cryptocurrency is a permissionless form of transaction that does not require any intermediaries to operate. This means no brokers, bankers, or lawyers are needed to intervene at any point in the transaction.
Your transaction cannot be blocked, censored, or revered using blockchain technology as there is no central intermediary controlling it.
Global Reach
Traditional payment systems are only as good as the country they operate in and are designed to benefit only a select few that are privileged enough to use (or "abuse") its services.
As you look for markets that operate outside your fiat currency's jurisdiction, you are faced with a new set of challenges that come in the form of currency conversion, cross-border transactions, lengthy processing times, and a mountain of paperwork.
With cryptocurrency, all of their hurdles are removed, as no matter the country, it operates the same for everyone. As a business, you can reach a global market with ease as long as you do so legally.
Merchants who accepted crypto payments saw an average ROI of 327% and an increase of up to 40% in new customers.
Savings
Crypto transaction fees are substantially less compared to fiat payments making them a more attractive option for businesses, especially when cross-border transactions are involved as the need to pay additional fees for currency conversion, cross-border transactions, bank handling fees, or any other hidden charges that banks might end up charging.
Even using crypto payment gateways, users have to pay anything from 0.5 - 1% per transaction to use their services which is comparatively less than credit card fee which ranges from 2.5-5%.
In addition to this, there is an added benefit of quicker transaction settlements as transactions are processed on the blockchain which typically takes a few minutes to a few hours to settle depending on the blockchain and the transaction fee, while fiat transactions can take a few days to even months for payments to show up on your account.
Security
If the past is any witness, banks and financial institutions have been the prime target of criminals who look for places that store large sums of cash in a singular location. Despite modern security measures, banks have failed to safeguard customers' assets with a 100% guarantee.
On the other hand, blockchain technology is one of the most secure fintech technology in the existing market. Based on cryptography and distributed ledger, blockchains are extremely hard to crack and there has not been a single reported case of a hack in any of the major blockchains that are circulating the market.
Book Keeping
Cryptocurrency takes away the need for bookkeeping and data storage for transactions greatly reducing the resources and costs involved in the process. With a distributed ledger, all the transaction data is stored on a blockchain which can be accessed by anyone at any time, thus adding a factor of transparency to the system.
Key Markets
North America remains the leader in the crypto payment gateway market share with about 54% of the total share. Increased mining operations coupled with key major players in the field such as CoinBase & BitPay are driving North America's market dominance in the crypto payment sector.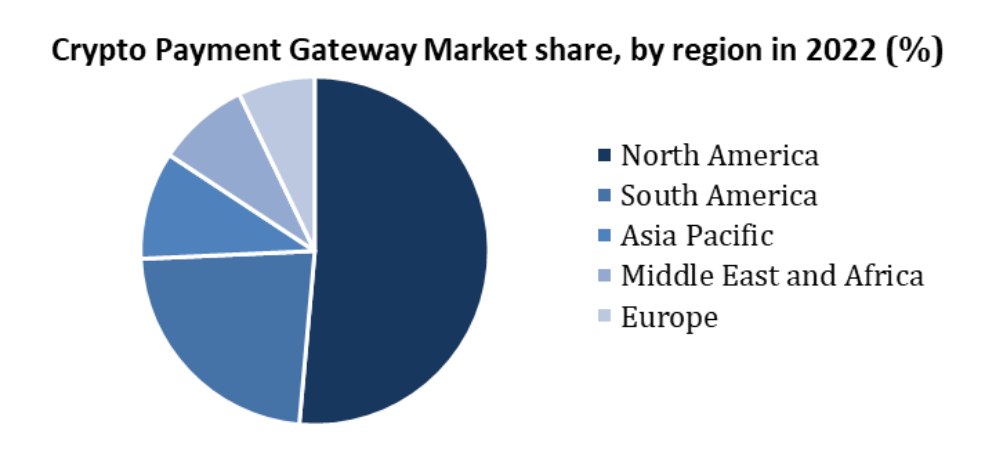 Many big enterprises such as Microsoft, AMC, AT&T, Dish, Time Magazine, Starbucks, and Twitch, have started accepting crypto payments for their services. A similar trend is seen in small to medium-sized enterprises that are much more open to crypto payments than their bigger counterparts.
Bitcoin ATMs have also seen a large upscale in recent years in North America with 93% of total global ATMs in this region alone.
South America's crypto-friendly laws and an affinity for digital transactions are driving crypto adoption in this region. In addition, the high inflation rate and the drop in fiat currency value in some Latin countries and driven people to hedge their funds in crypto.
Triple A's crypto ownership data for the year 2021 states, 40 percent of Mexican firms are interested in using Crypto Payment Gateways.
Asia Pacific's major driver in crypto payments is largely fueled by countries such as China, Japan, and India, with user penetration expected to reach 11.47% by 2027.  India takes the #1 spot of crypto owners in this region with 7.23% of the population holding/using crypto in some capacity.
Exchanges such as CoinDCX have partnered with global spots and derivatives exchange OKEx to bring the futures market to Indian users, and while China banned crypto in 2019, its use through foreign exchanges has continued to rise, in fact, the FTX bankruptcy filings indicated that 8% of its users were Chinese.
Europe has been amongst the first regions in the world to devise crypto-friendly laws and has seen its adoption grow at an impressive rate. As of February 2022, the total market capitalization of crypto-assets is reported as having increased eightfold in the last two years to around 1.5 trillion euros.
Yet, the crypto payments market has not seen such an increase indicating most people see it as an investment and not a currency.
Landscape
Some of the key players in the crypto payment gateway industry include Coinbase, Bitpay, TripleA, CoinRemitter, NowPayments, Blockonomics, and also MasterCard.
Mastercard a leading fiat payments provider has launched a suite of crypto-related products including ciphertrace, ekata, nudata, riskrecon, and crypto secure to enable a new generation of crypto users globally.
BitPay, a leading crypto payment gateway processed 450K crypto transactions in a period of 6 months with over 250 merchants in the USA alone. It has partnered with Simplex, Wyre, MoonPay, and now, Ramp to make crypto payments more accessible.  
Google Cloud formed a strategic web3 partnership with Coinbase to expand its crypto-related services and build on web3.
Conclusion
As web3 and decentralization becomes a global norm, crypto usage is certain to see wider adoption and usage amongst people.
This forecasts a huge growth opportunity for crypto payment services that will enable businesses to stay ahead of the curve and expand their reach.
While North America is still expected to lead the crypto market dominance in the coming years, markets such as Asia, Latin America & Europe provide a big opportunity for businesses to tap into a nascent market ready to ripe.
Global corporate giants such as Google, Mastercard, Coinbase, and BitPay, are already working towards providing comprehensive crypto solutions to customers and the market is growing at a fast pace.
The future certainly is bright for crypto payments.  
---