Bitcoin Tutorials
How to use a Telegram Bot Bitcoin Store
Want to create a bot for your Telegram store that accepts Bitcoin? This blog shows how easy it is to use the Blockonomics Bitcoin Telegram Bot to run a store selling all your goods and services.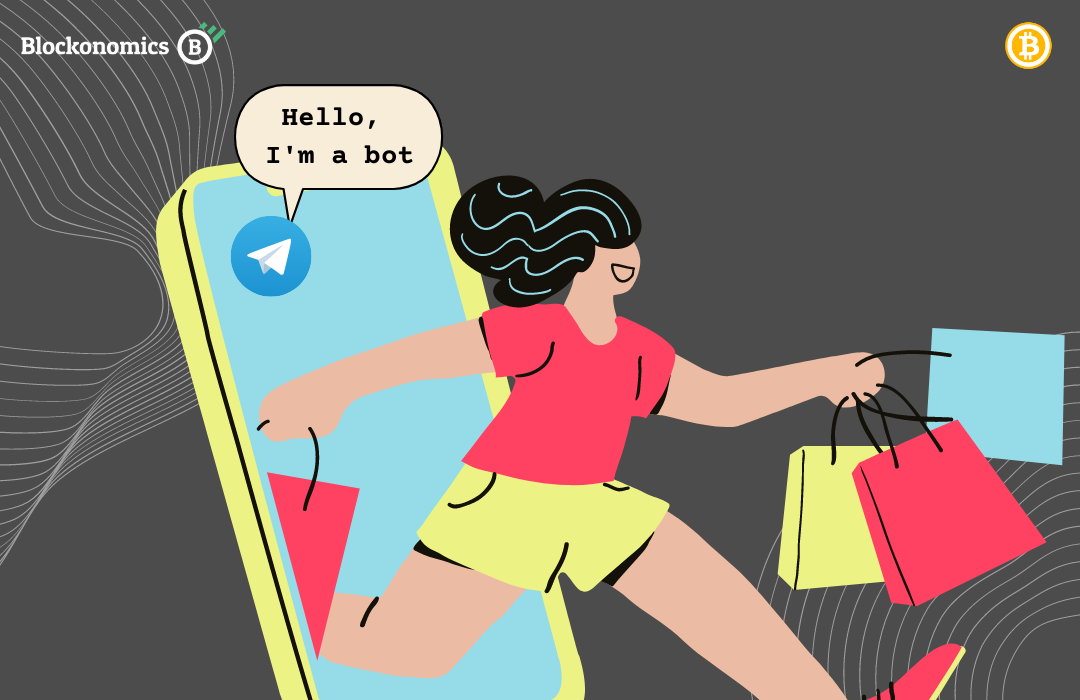 A popular messaging app, Telegram is used worldwide as a trustworthy source to send messages due to the end-to-end encryption and anonymity it provides to its users.
Telegram has over 700 million monthly active users and is one of the 10 most downloaded apps in the world.
With Telegram, you can send text, audio, photos, videos, and files of any type (doc, zip, mp3, etc), plus create groups of up to 200,000 people and channels to broadcast to an unlimited audience.
Additionally, Telegram also features something called bots which can be used for a host of things some of which include, customized notifications, integrations with external apps, playing games, and accepting payments.
Telegram Bots can also be used to create marketplaces where users can shop for products and make payments, all of which happen within the chat itself, and users are not redirected to any external pages.
Lately, Telegram has been the preferred place for a lot of merchants to sell their products online.
And for good reason as with Telegram Bot shops:
There is no need to create and host a dedicated website.
You get access to an international user base as there are no border restrictions.
It is quite popular and trendy with the young crowd all over the world who use it for its anonymity and privacy.  
You access the power of AI and automate the entire shopping process.
Can you accept bitcoin payments with Telegram Bots?
Blockonomics offers a Telegram shopping bot which you can now use to accept bitcoin payments for your shop.
The technical guide to set up the bot is available here: Greed – Telegram Shopping Bot
How does it work?
Once the Telegram Bot Shop is set up here's how it will look.
You will have options to take several actions which can be accessed by the buttons present at the bottom of the chat widget.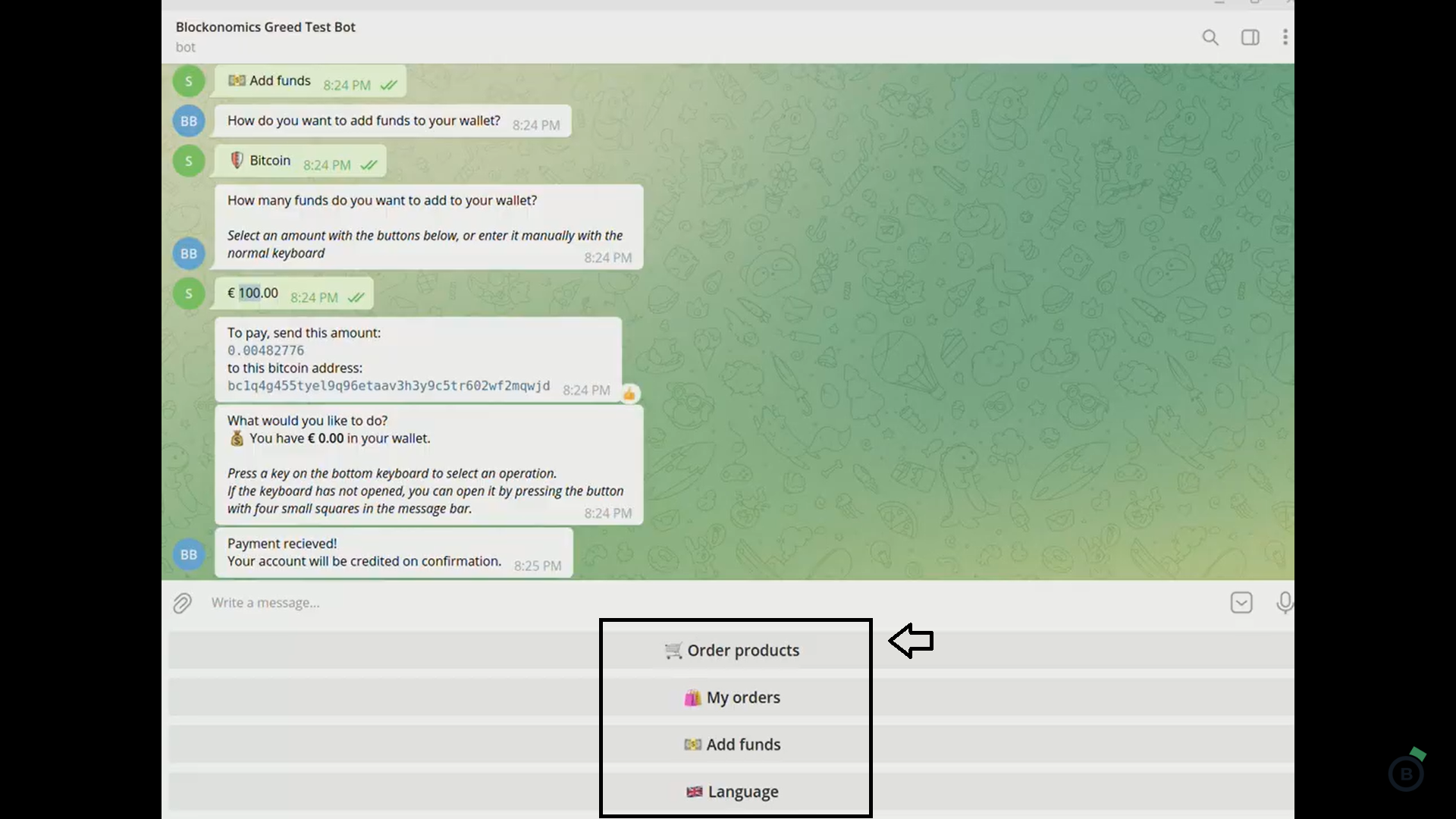 Step 1: Add Funds
Before you can buy anything from the store you need to add funds to your account:
This can be done easily by clicking the "Add Funds" button.
Once you enter the amount you wish to add to your funds, a dedicated bitcoin address will show up along with the exact bitcoin amount.
Send the bitcoin amount to the address provided and upon confirmation you will receive a "Payment Received" notification.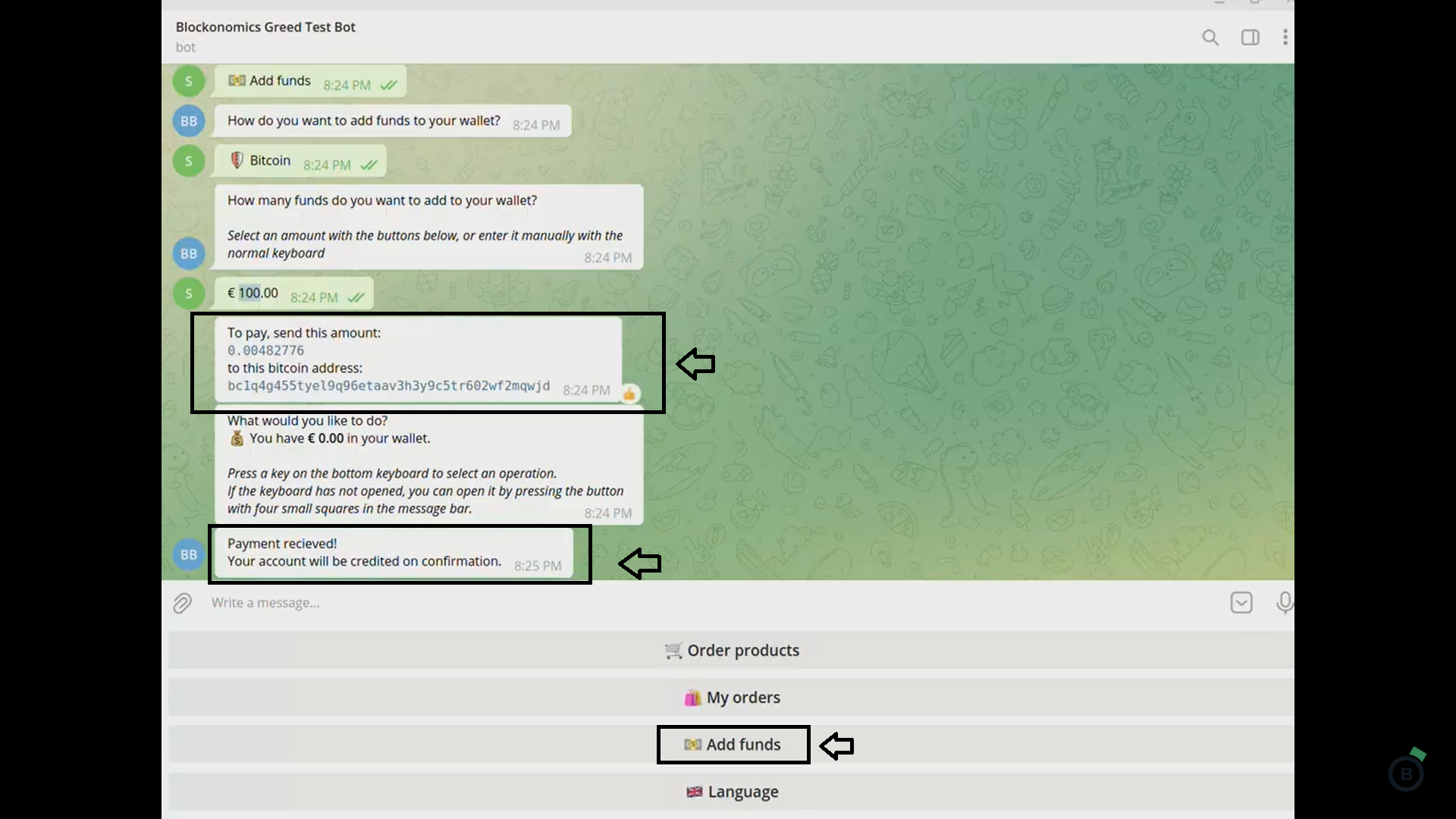 You are now ready to shop!
Step 2: Order Products
Click on "Order Products" and you will receive a list of all the available products.
Simply "Add" all products you wish to receive. Once done, the order will be processed automatically and the total money will be deducted from your available funds.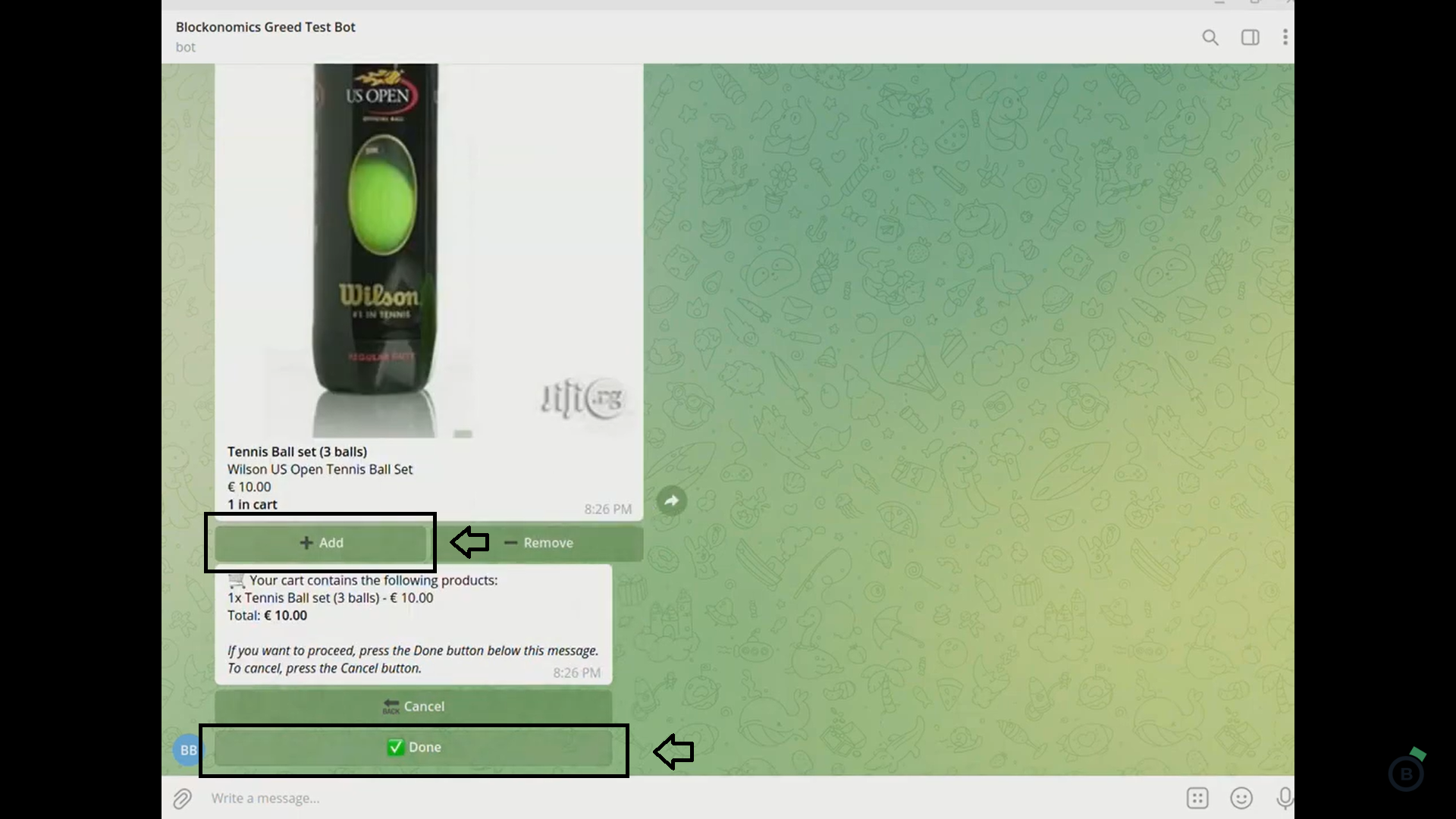 You can press "complete" to finish your order.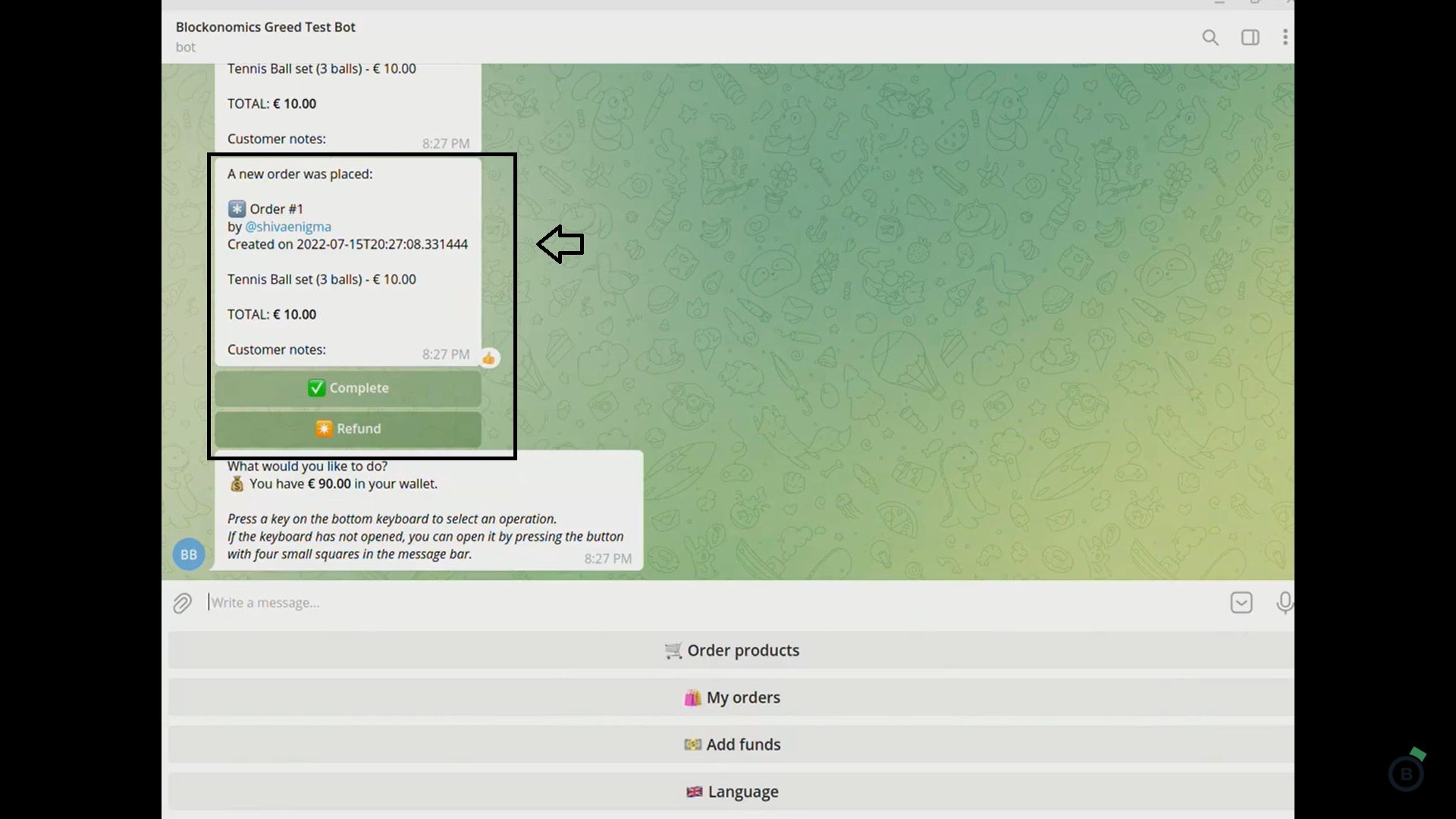 My Orders: You can check all your previously ordered items by clicking the "My Orders" link.
Language: Change the language to your preferred one by clicking this button.
Conclusion
Telegram Shopping Bot is a great way to sell your products and accept bitcoin payments for them.
With no need for a dedicated site, you can now reach millions of users worldwide who use Telegram.
Create your Telegram Shopping Bitcoin Bot now...