Entrepreneurship
Best Bitcoin Payment Processors [2023]
Take a look at how payment processors work, and what the best Bitcoin payment gateways are on the market today.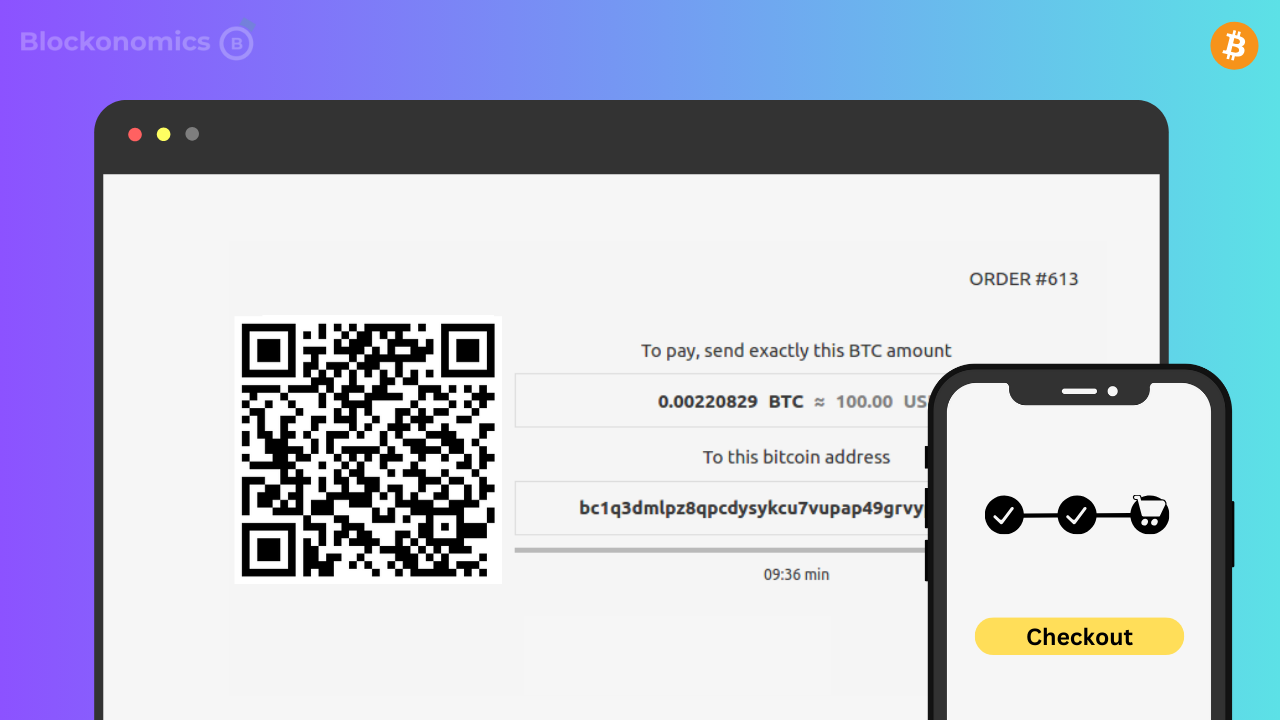 There are a large number of Bitcoin payment gateways on the market right now. As Bitcoin has grown in popularity, meaning more people are purchasing it, that means that holders want to make bitcoin payments and merchants want to accept cryptocurrencies in their stores.
But how do you as a store owner decide which payment gateway to use to accept cryptocurrency payments? In this article, we're going to take a look at how payment processors work, and what the best bitcoin payment gateways are on the market today.
Table of Contents:
How Crypto Payments Work
What Makes A Good Bitcoin Payment Gateway
Best Bitcoin Payment Processors
Conclusion
FAQs
How Crypto Payments Work
If you're new to Bitcoin you're probably wondering just how to accept crypto payments for your online store. The concept actually is very similar to fiat payments, where customers are directed to a checkout screen and payment page to enter their card details.
With crypto payments, the only difference lies in the payments page, where instead of entering the card details your customers will be shown a receiving address to which they need to make the payment.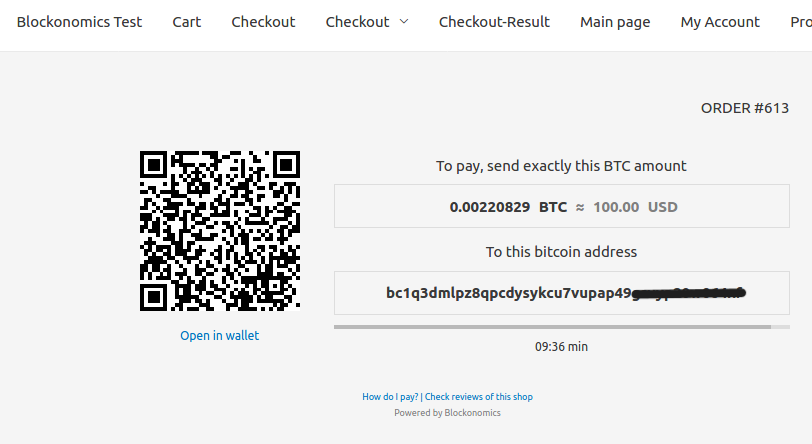 This wallet address belongs to you, the shop owner, and when customers make the payment, you will receive the crypto in your wallet.
This checkout experience is what a crypto payment processor enables for an online merchant.  
One more thing to know here is that there are two main types of crypto payment gateways, there's direct-to-wallet, and there's custodial.
Custodial payment gateways are companies that use their own Bitcoin wallets to facilitate the transactions.
So for example if you use a custodial gateway to accept payments,
A customer makes a purchase using Bitcoin payment ->  
The Bitcoin transaction is then sent from the customer's wallet to a wallet controlled by the payment gateway but assigned to the shop owner ->
You, the shop owner can then move that Bitcoin, but until you move it to a private wallet, the crypto is still under the control of the custodian company.
In this way, it is similar to a bank account and using debit cards to pay for transactions. This has some benefits because it is generally very easy to use, however, there are several security concerns, the main one being that you don't control the bitcoin you receive until you move to your privately owned wallet.
Direct-to-wallet payment gateways, meanwhile, are exactly what they say, the payments go directly from the wallet of the customer to the wallet of the shop owner. This is more like paying directly in cash.
When the customer purchases an item at online stores, the crypto transactions are sent directly from the customer to the shop owner's privately controlled wallet. This leads to top-notch security because there's no middleman involved.
The payment processor instead is just facilitating the ability for the transaction to go through rather than holding the Bitcoin for themselves.
What Makes A Good Bitcoin Payment Gateway
There are a number of things you have to take into account when choosing Bitcoin payment gateways. And, as with many things, the truth at best depends on what you as an owner of an online business need for your business. There are a few consistent items that are brought up when looking at gateways though.
🛡️Top Notch Security and Privacy
First off is the need for security and privacy. Custodial payment processors often have security concerns because they are holding your Bitcoin until you move it to your private wallet. If your payment getaway provider gets hacked, you could lose your Bitcoin.
Because direct-to-wallet goes directly to your wallet that ensures you are in complete control of its security.
There are also security concerns for your customers, you should choose a payment processor that has proper security protocols and measures to protect customers' data. Although Bitcoin is very secure instinctively, your payment gateway might not be.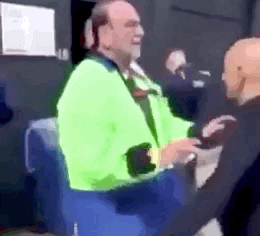 One cannot overlook privacy when talking about Bitcoin. Protecting your customer's privacy is just as important as providing a secure experience. This could mean not collecting personal information and storing it on company servers.
A custodial payment gateway or one offering fiat conversion services is more likely to collect and hold information about you and your customers. But, if the area you live in requires some form of KYC by law then make sure you understand that and follow those rules.
💡
Thinking about some form of KYC [Know Your Customer] might be important as you want to try to protect both your and your customer's privacy, and at the same time prevent malicious players from taking advantage.
💸Transaction Fees
Usage fees are also really important to take into consideration when deciding on a payment processor to use. Different cryptocurrency payment gateways charge different things.
Most crypto payment gateways charge anywhere between 0% - 1% in fees, which is still considerably lower than traditional fiat gateways which start from 3% with additional charges such as foreign currency conversion, settlement fees, bank fees, service charges, etc.
Sometimes of course higher fees on a payment gateway might mean higher customer service, but not always. Knowing how much your company can spend on processing fees is important.
🛠️Installation Process
The ease of installation is also very important. Many payment gateways have plugins for popular e-commerce platforms. If you are not technically savvy, these plugins are often very easy to install.
You find the plugin on the platform and just click install. But if you want something more customizable, you would want a payment gateway that allows users greater control in the output, and options like APIs.
🆚Decentralized vs Centralised
Decentralized refers to the process of being free from central authoritative control. For a payment processor to be decentralized would mean:
No identity verification — KYC/AML
Non-custodial payments (payments are never in custody of a third party) — P2P [Peer-2-Peer]
Slightly technical setup
No fiat support
Centralized payment processors on the other hand offer a less technical setup but payments are usually held by third-party companies making them slightly risky.
Such processors usually make for a good choice for larger corporations that need strict KYC/AML compliance to avoid any form of misuse or foul play as well as compliance with legal authorities, they usually offer direct fiat settlements to avoid crypto volatility.
🤝Support
Another important factor while deciding on a payment gateway is how good their customer support is. As with any software, you as its customer will have questions or run into roadblocks that may need immediate attention, in such cases, a good support center is pivotal.  
Support can come in many forms including:
Help articles/docs,
Support videos,
Phone,
Live Chat,
Email,
Community forums.
A bare minimum for good support should include dedicated help articles/docs, and one in-person support such as chat, email, or phone.
Some companies offer support for an additional fee so make sure to check the requirements before signing up.
Best Bitcoin Payment Processors
Drumroll please, it's time to list out some examples of crypto payment gateways, in the quest to find the best Bitcoin payment gateways!
1. Blockonomics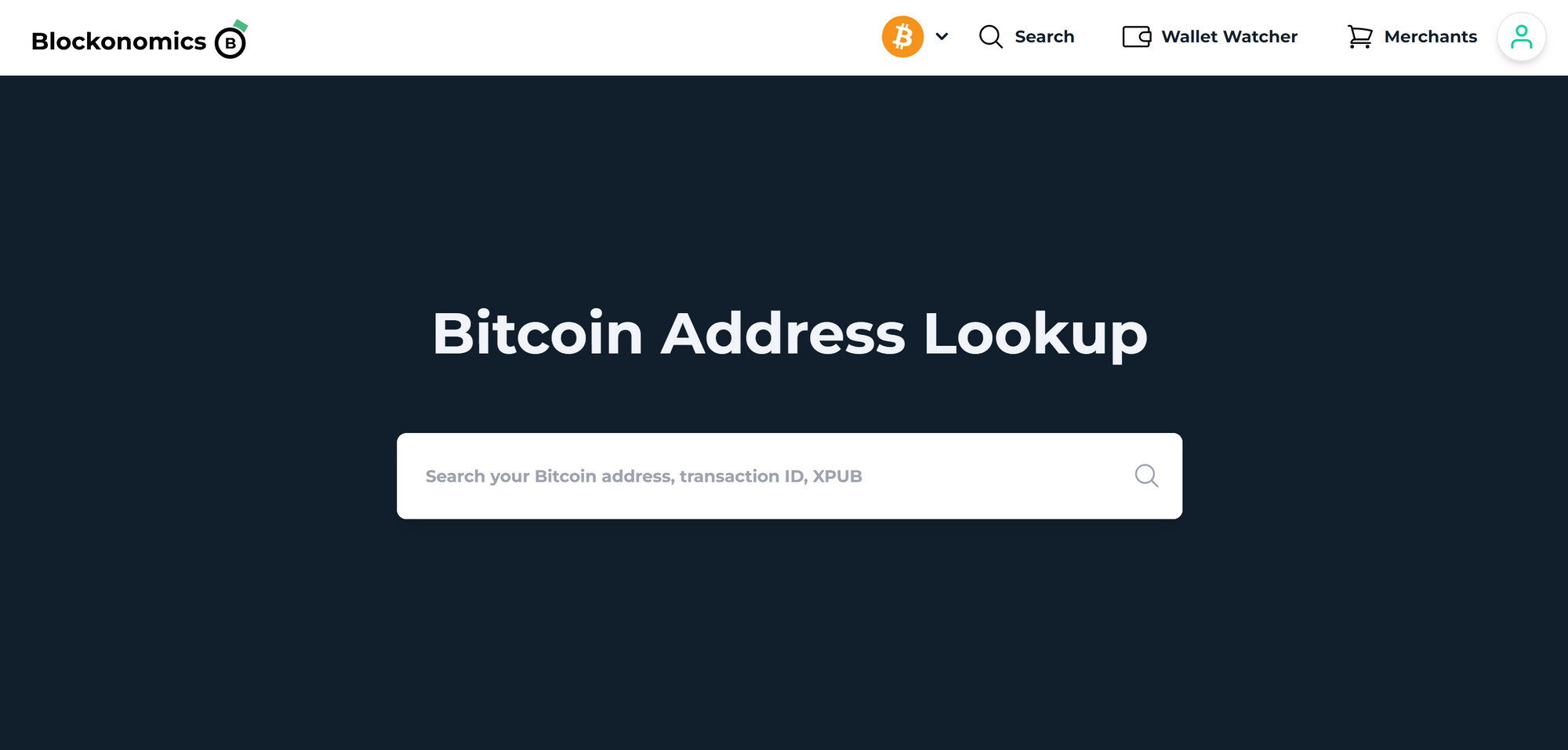 Blockonomics is one of the direct-to-wallet payment gateways. It allows funds to go from the customer to the store owner directly with no middleman holding the funds. Founded in 2015, it is one of the more established players on the block. It allows businesses to accept Bitcoin and Bitcoin Cash.
→ KYC: No
→ Non-custodial: Yes
→ Fee: 1%
→ Support: Excellent
🛡️Security and Privacy
Blockonomics is well known for its security. Because it is direct-to-wallet, it makes your crypto more secure.
Additionally, Blockonomics requires no KYC so both you and your customer's privacy are protected. Finally, Blockonomics generates a new address with each transaction so no one can track your cryptocurrency wallets.
🛠️Installation Process
One of the main benefits of Blockonomics is that it allows users to have a variety of install options. For those small business owners who want ease of installation, there are plugins for a variety of e-commerce platforms including WordPress/Woocommerce, WHMCS, PrestaShop, and OpenCart. Additionally, it offers easy-to-use payment links and buttons that can be used on sites that don't have a plugin available.
Additionally, for the more technically-minded, there are opportunities for in-depth installations. Blockonomics has an API that can be integrated, as well as an HTML payment method, and more. The sky's the limit with the options that are provided.
2. BTCPay Server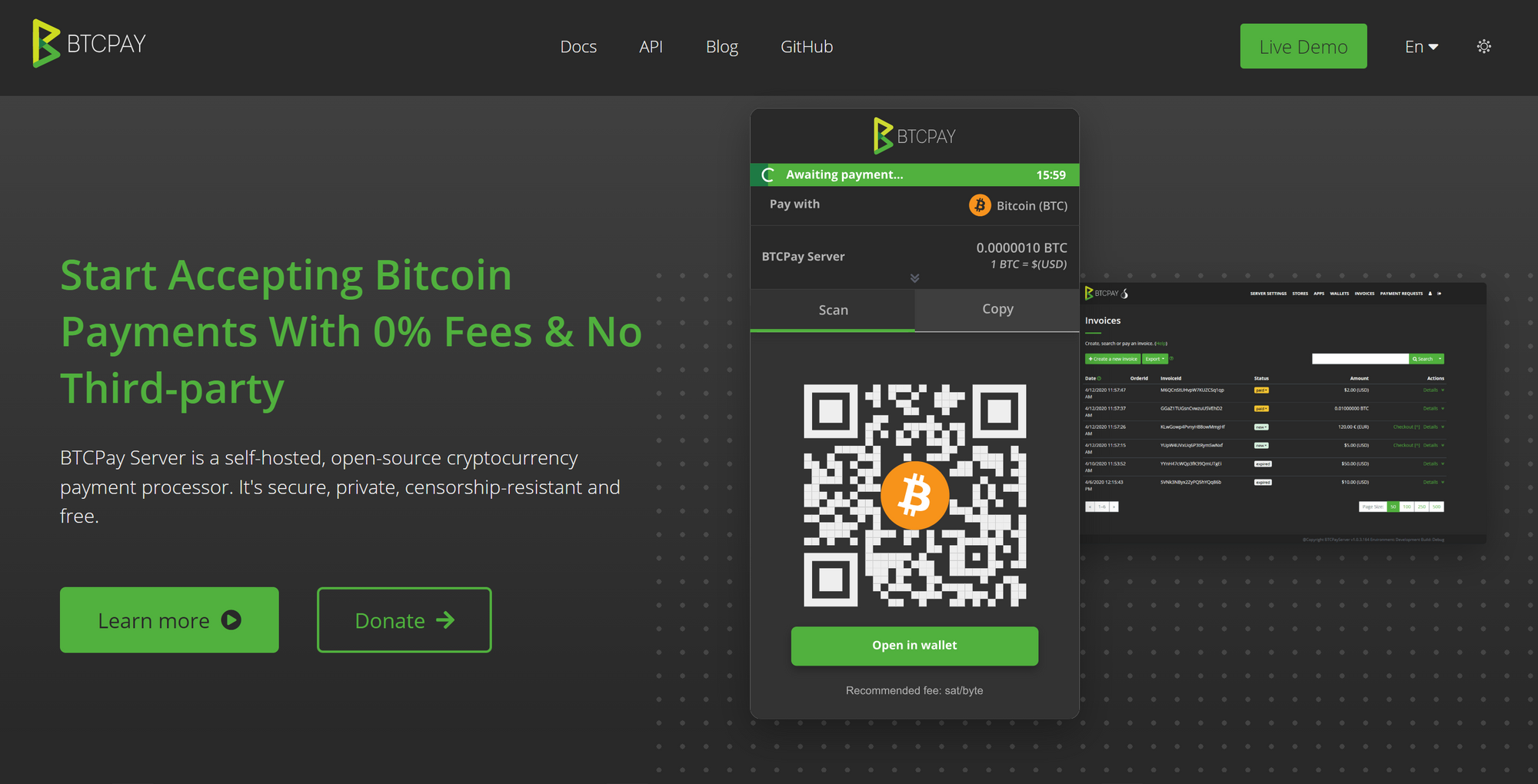 BTCPayServer is well known in the Bitcoin community as a powerful crypto payment gateway. It is also direct to wallet just like Blockonomics, and offers a lot of flexibility.
It offers a small number of crypto payments in addition to Bitcoin including Dogecoin and Monero. However, its setup is technical and not recommended except for the more advanced users.
→ KYC: No
→ Non-custodial: Yes
→ Fee: 0
→ Support: Poor
🛡️Security and Privacy
BTC PayServer is well known for its security and privacy. It is direct-to-wallet and so is very protected against hacks, and privacy is secured through various means such as not having KYC. However, because it requires more set up it can mean that you have to have more security on your personal device.
🛠️Installation Process
BTCPay Server offers plugins for major CMSs as well as API for custom integration but as mentioned, the setup is slightly more technical than existing options in the market, which may be its biggest drawback.
3. OpenNode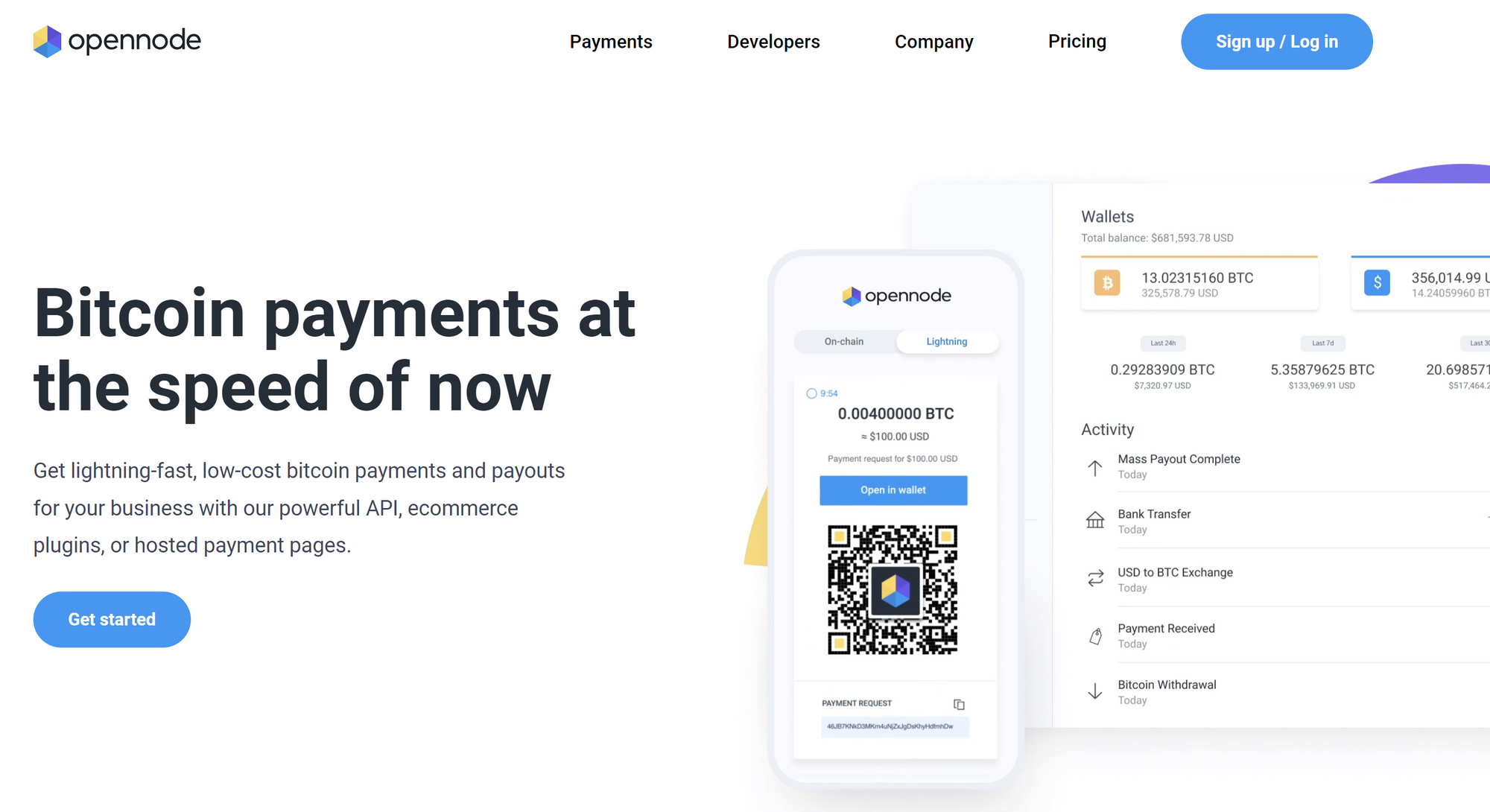 OpenNode is a long-standing payment gateway that has been in the market for more than 5 years now. It specializes only in Bitcoin transactions and offers features such as lightning transactions, fiat conversions, and in-person checkouts.
It offers integrations for most major CMSs including, Shopify, BigCommerce, WooCommerce, Magento, PrestaShop, and OpenCart, as well as payment buttons and hosted checkouts.
→ KYC: Yes
→ Non-custodial: No
→ Fee: 1%
→ Support: Good
🛡️Security and Privacy
OpenNode claims to have strong security, largely because it only allows Bitcoin payments. However, it is not direct-to-wallet which creates security concerns.
It offers BTC payouts as two options, scheduled and on demand.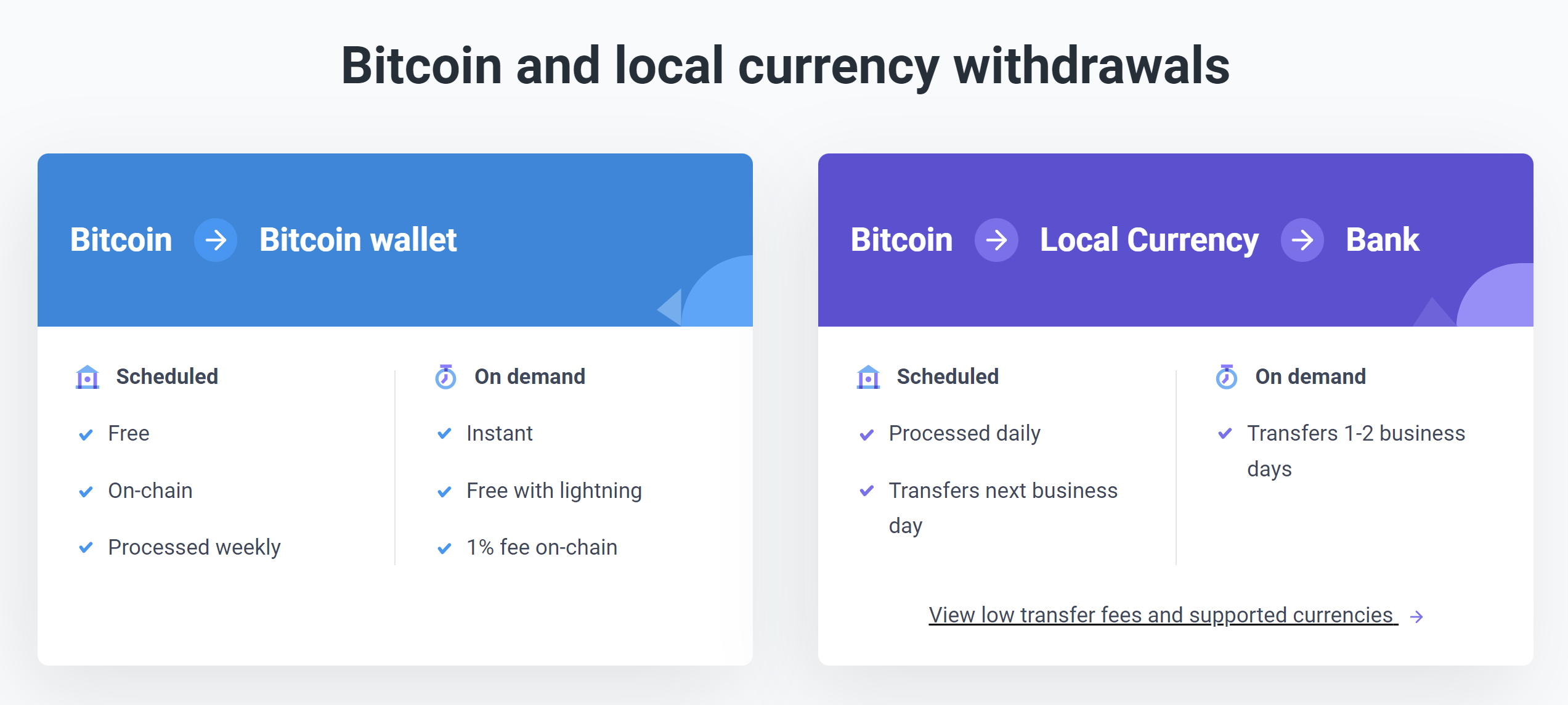 On the privacy side, it does require KYC for its customers, individuals, and businesses alike, so if you are looking for an anonymous payment gateway this may not be an option for you.
🛠️Installation Process
OpenNode offers plugins for popular e-commerce platforms like Woocommerce and Prestashop. It also offers API integrations so coders would also be able to create a more in-depth payment crypto platform.
It additionally offers hosted checkout which offers a much faster integration as the checkout page is hosted on open-node servers. And Payment Buttons which can be integrated into any website as a button.  
4. Coinbase Commerce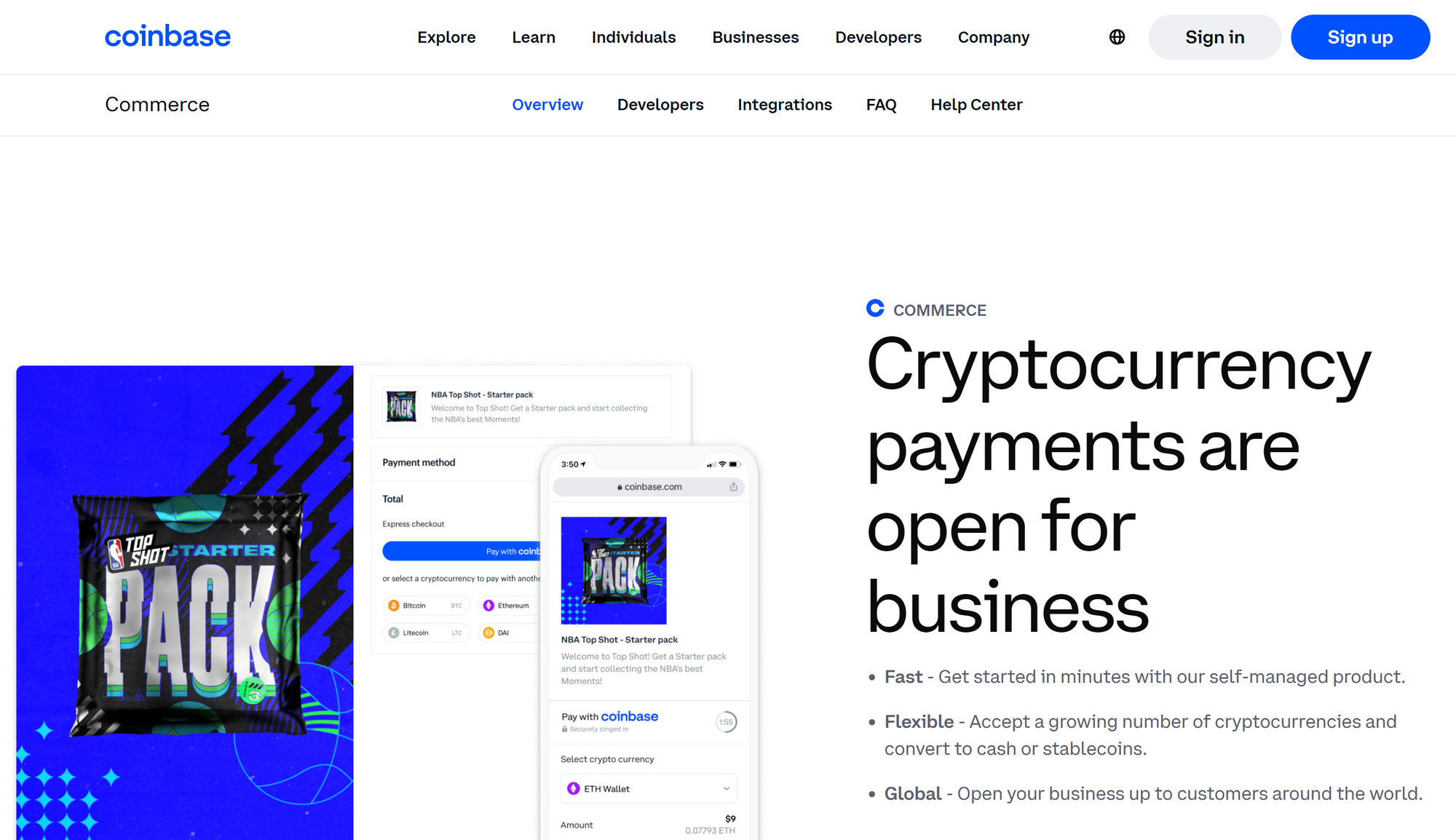 Coinbase is perhaps one of the most popular names in the crypto ecosystem thanks to its widely used crypto exchange. It also offers a payment gateway to its customers, Coinbase Commerce, which captured a significant market share in this space.
Being a payment giant has its positives and negatives. Coinbase Commerce is known worldwide by merchants and customers alike so it instills a level of trust amongst its users plus it offers a wide variety of altcoins like Bitcoin Cash, ETH, Dash, USDC, and many more so you can receive payments in pretty any currency you wish.    
But, past customers have reported sub-par customer support offered by Coinbase Commerce which can be a deal breaker for some merchants especially those who hold good customer support in high regard.  
→ KYC: Yes
→ Non-custodial: No
→ Fee: 1%
→ Support: Poor
🛡️Security and Privacy
Coinbase Commerce has some problems with security simply due to its size. It works hard to improve its security, but because it is a well-known exchange it has a large target on its back.
Plus, as it's a custodial payment processor that means you also lose some security surrounding your Bitcoin. It's more like a bank account where they control your money, than a wallet where you control your money.
Privacy-wise it also runs into problems because it requires KYC to use the service, a clear dealbreaker for anonymous focused merchants.  
🛠️Installation Process
Coinbase offers easy installation through its plugins, available for JumpSeller, Shopify, WooCommerce, and Primer.
Plus API for custom integrations geared towards developers.
5. NowPayments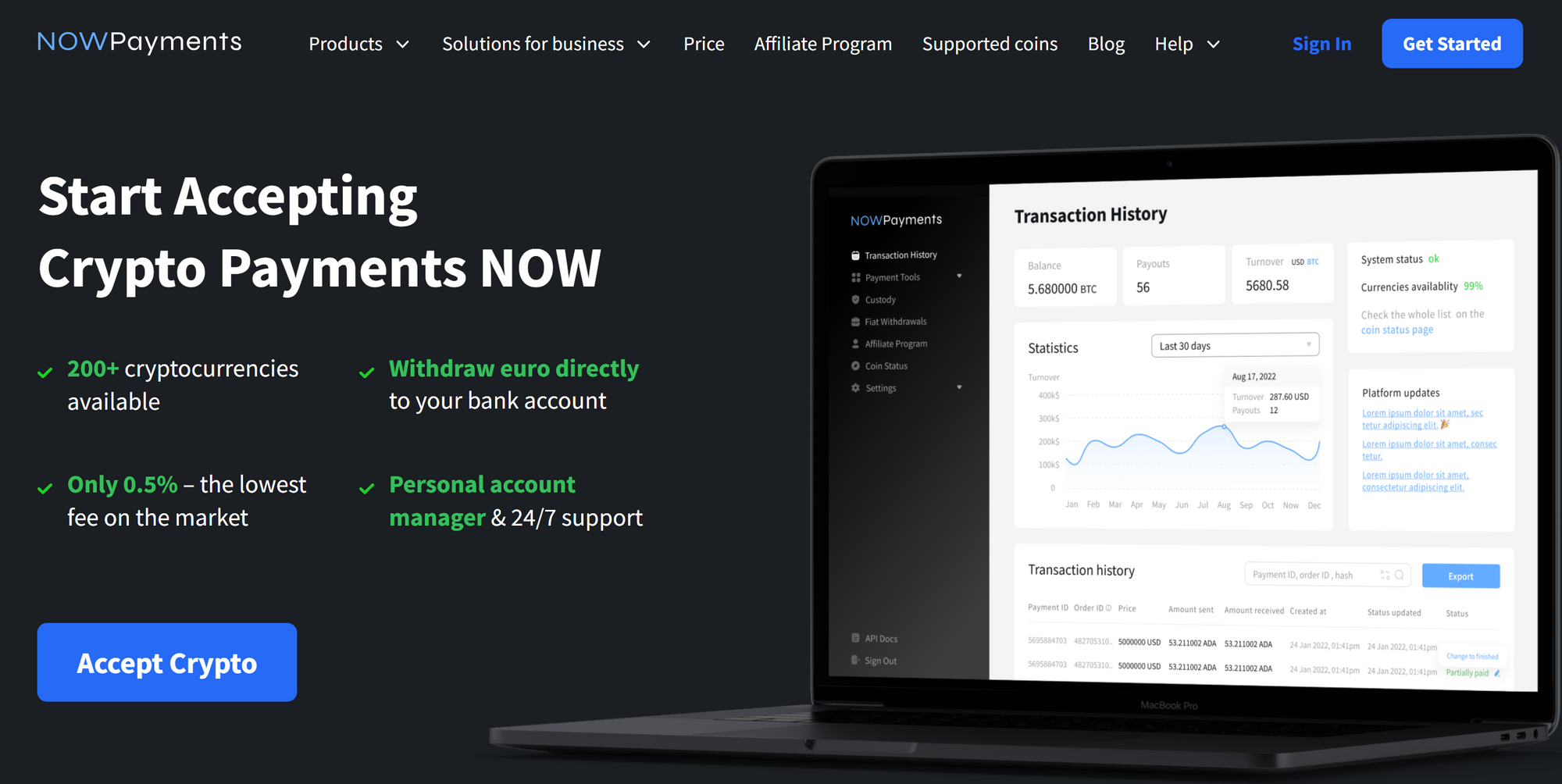 NowPayments is a non-custodial payment gateway that allows merchants to accept Bitcoin plus more than 60 altcoins on their online store.  
In addition to supporting fiat conversions, it offers a range of features and services catering to different types of business all for competitive fees. Auto fiat conversion, PoS payments, mass payouts,
→ KYC: Yes
→ Non-custodial: Yes
→ Fee: More details here
→ Support: Good
🛡️Security and Privacy
NowPayments is a non-custodial payment processor which means you get your payment directly to your wallet, which is a plus for security.
Privacy-wise it also runs into problems because it requires KYC to use the service.
🛠️Installation Process
NowPayments offers easy installation through its plugins available for, PrestaShop, WooCommerce, Magento 2, WHMCS, OpenCart, Ecwid, Zen Cart, Shopify, and Shopware. Plus, API for custom integrations.
Plus it also offers PoS terminal, and customs solutions such as mass payouts, and payments for casino/gambling platforms.
Conclusion
In conclusion, there's a lot that goes into finding the best cryptocurrency payment gateway. It truly depends on what you need in a crypto payment gateway for your business, so you may want to ask questions like what your budget is like, what your technical skills are, do you need many altcoins, and whether privacy and anonymity are major factors for you.
Once you know what you want making a decision gets easier and quicker. Don't shy away from testing and exploring different options while also looking at online reviews from past customers.
Accepting crypto payments is much easier than you may think and with a little preparation, you will be ready to accept them for your online store in no time.
---
FAQs
1. What is the main difference between a traditional fiat and crypto payment gateway?
There are several major differences between traditional, fiat, and cryptocurrency payment gateways. The obvious one is the payment method. The former does payment processing of fiat currencies, like USD, EUR, GBP, etc. The latter allows users to accept payments in the form of cryptocurrency.
Additionally the former is often far more expensive to receive payments. Processors like PayPal or Stripe charge very high fees compared to even the most expensive crypto payments gateway.
Other payment gateways are also inherently less secure and private because they are using fiat rather than Bitcoin which means they lose out on the inherent security offerings.
2. How do Bitcoin processors handle currency fluctuations?
Generally, the main way that the best cryptocurrency payment gateways handle fluctuations in crypto payments is by locking in a price for a period of time [usually 10 minutes]. This means that the customer gets the peace of mind that the price won't fluctuate on the product while they are making the cryptocurrency payments.
Additionally, some payment processors offer auto-fiat conversions which means that the crypto you receive will automatically be converted to a fiat currency of your choice when the payment is made.
Stablecoins are another way to manage crypto price fluctuations.
3. Are there any red flags to watch out for when choosing a processor?
Custodial payment gateways often are a red flag because they result in less security and privacy.
Bad Reviews are an obvious red flag. Make sure to read a bunch of reviews. A payment processor that is new might be fine, but there are several growing pains that can cause a lot of payment processors to go under, unfortunately.
Another red flag is if the payment processor is too centralized in its operations. Bitcoin is all about decentralization and that's where it gets its value and security. If a business is trying to centralize in the Bitcoin sphere, do they really have the interest of its Bitcoin customers at heart?
---